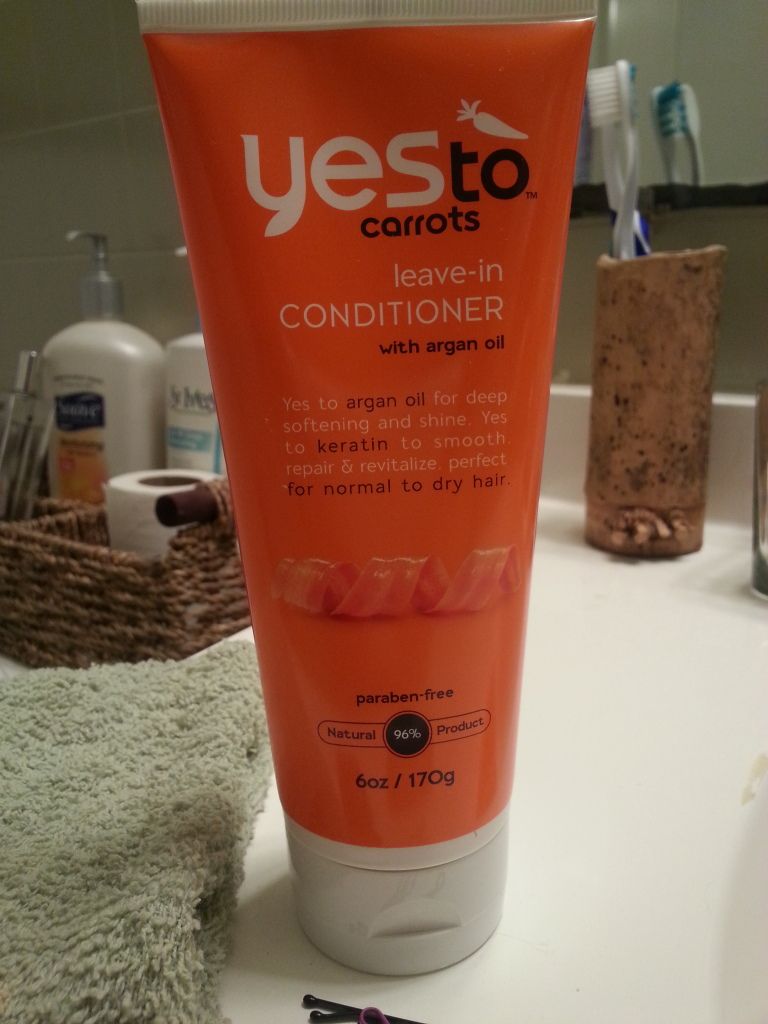 Don't worry, Giovanni Direct Leave In, I still love you. But I have found a very close second, if not tie, for a leave in conditioner for natural hair.
Every since dying my hair blonde, my hair has turned extremely diva -- it's is now temperamental, flakey, very thirsty, brittle, and dry basically all the time. I also find my hair to be happiest when it is straighter and/or wavy rather than curly. The problem is...I am fairly lazy, so straightening my hair everyday is not a realistic option.
Lately, for a serious boost in moisture and maleability, I've been LOVING Say Yes To Carrots' Leave In Conditioner with Argan Oil. I love everything about it -- the texture, consistency, feel on my hair (and even on my skin), and the smell. It feels like a creamy, heavier lotion. It is not has heavy as an oil or butter, but thicker than the Giovanni Direct Leave In. It has a light, fresh, powdery smell as well as a powdery finish so it doesn't dry so oily. Even if you run it into your fingers, it dries a bit more powdery soft than oily. It really does leave my hair feeling as soft as it was prior to dying, especially when I wear it in a straight style.
The only possible negative I've found with this product is that it does not always mix well with gel based styling products. I would not suggest mixing this with heavy amounts of Kinky Curly or Eco Styler, for example. If you do cocktail this product, go lighter with the products and use a lot of water.
Anyway...this has definitely been a bleach blond survival staple in my natural hair toolkit as of late. And I highly recommend this product!
Of course, you can't know if this will be good for your hair type until you try it for yourself...
I am upset to hear this...but I've heard this product might be going away soon. Not sure what I will do without it...it is currently on sale
here on yestocarrots.com
for a little over $5. A great price!
This product is 96% natural with a rediculously long slew of natural extracts and few hard to pronounce unfamiliar ingredients. I also like that it is paraben free, petroleum free, SLS (Sodium Lauryl Sulfate) free, & cruelty free! If Yes to Carrots is actually bidding this leave in farewell, it's a big mistake!!
Contains:
Argan Oil
Sea Kelp Extract
Keratin
Ingredients:
Water, Cetearyl alcohol, Behentrimonium chloride, Safflower seed oil, Candelilla cera wax, Olive oil, Shea butter, Argan oil, Macadamia seed oil, Coconut oil, Radish root ferment filtrate, Pomegranate extract, Green tea leaf extract, Carrot root extract, Sweet potato extract, Spirulina extract, Orange extract, Honey extract, Sea kelp extract, Soybean seed extract, Hydrolyzed keratin, Hydrolyzed soy protein, Tocopherol, Glycerin, Guar hydroxypropyltrimonium chloride, Capric Triglyderide, Glyceryl stearate, Citric acid, Dihydroxypropyltrimonium chloride, Sodium hydroxide, Sodium borate, Potassium sorbate, Phenoxyethanol, Fragrance.
*Many of the extracts and oils are organic
This is definitely up there on my top leave in list with Giovanni and Kinky Curly Knot Today. I liked it before I dyed my hair, but find that it works particularly well on dyed damaged hair. If your hair is undamaged then its possible you won't notice much of a difference between this and your already favorite leave in.
Tell me how it goes if you try it out!