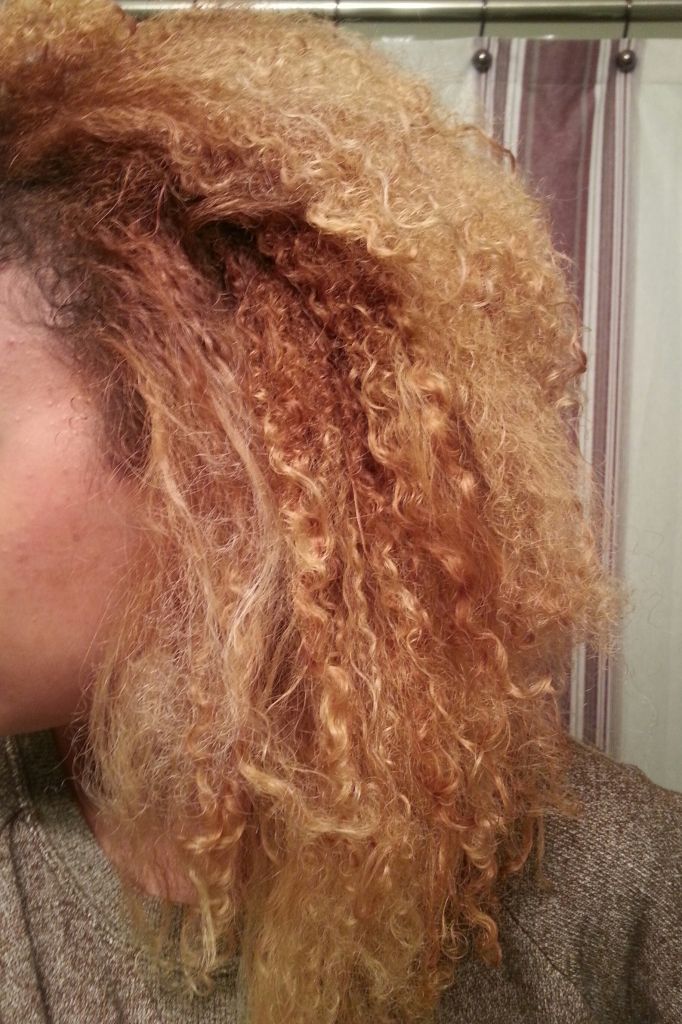 So, it's been about a month since I died my hair blonde--and over a month since I promised I would share all about it. I even have a million pictures on my phone of the process and everything I've done to my hair up until now. I was getting bored of my hair...I have box died it since "going natural" about three years ago, but I never did anything very drastic. Just lighter shades of brown. Then, I died it jet black a couple of times. I absolutely did not want to cut it, because my goal is to grow it out at least bra strap length--more just to prove to myself that it is possible, and also because I've never had long hair and it's always something I've wanted to try. So I decide going blonde was a good idea. I was already comfortable with the idea of dying my hair, and I figured dying my hair wouldn't much compromise length or texture -- I still wanted curls.
The reason why I haven't shared anything about my adventures of going blonde...is because it hasn't been much of a fun adventure. Actually, I was very unhappy with my results. I don't entirely regret going blonde, because at least I'm not bored with my hair anymore, but the color I ended up with is just not what I wanted. After a bad experience at the hair salon that initially bleached my hair, I've had a few rounds of emergency runs to Sally's and at-home touch ups where I tried to "fix" it and really, probably, made it worse.
I kept looking desperately for something or someone to blame. Why don't stylist know how to do my hair type? I showed her at least 7 pictures of what I wanted and my hair came out looking like none of them. She promised me that my hair would NOT be red, orange, or yellow--and I walked out with my hair looking all three of those colors! How come the lady at Sally's didn't warn me that the 35 developer would turn my roots orange? If Youtube is telling me to use violet/blue based toners that will magically transform my hair from brassy orange to ashy beach blonde...how come it did nothing but turn my hair more orange and fried--and actually start turning my lightest blonde strands BLUE?!
After multiple attempts to fix it I kept disappointing myself even further. And now I realize there's no one to blame about this bad dye job other than myself. And the one mistake that I made was to go in the salon assuming I was going to come out looking a certain way-- i.e. Ciara or Beyonce. I told myself I didn't expect to look like either of those women...but I likely expected my hair at least to look pretty close. With going so drastically blonde, there's no guarantee on anything. And maybe I just wasn't clear enough to the stylist about what I wanted...and maybe what I wanted is just not possible to achieve on my hair type and color.
My boyfriend--who is Asian with straight black hair, who actually buzz cuts it off anyway (so in other words doesn't have hair and doesn't know anything about hair care, let alone black hair care)--may have actually given me the best advice. He said that instead of trying to make my hair someone else's look...that I should make it my own look. That I shouldn't aim to go "Beyonce blonde," but I should go for "Dora blonde." Or the Dora look. (Doe is short for Dora).
The more I look at this awkwardly orange, yellow, brassy colored hair of mine...the less I start to see it as a big mistake...and the more I start to see it as "Dora blonde." In reality, when I style it, the color itself doesn't look sooo bad. I actually don't mind it at all when it's straight -- so I'll probably be wearing my hair straight more often this summer. My main issue with my hair now is that it is so red/orange when I wanted more of a beige/ash/cool tone. What I'm even more upset about is the damage.
My plan is to give my hair a Summer vacation. For the next 2-3 months I will just leave it alone. Moisturize it weekly. Deep condition regularly. Keep my fragile ends tucked away as much as possible, and just try to rock this 3 toned orange hair color as best as I can...during the care-free summer months. Then come Fall, I may just splurge and go to a salon that actually does my hair type, and ask them to dye my roots a truer cooler toned brown, and to tone down the yellow. I'll still post the processes I went through...eventually and reluctantly...so that maybe others who have recently died their hair blonde can see what NOT to do... lol. So stay tuned... :)