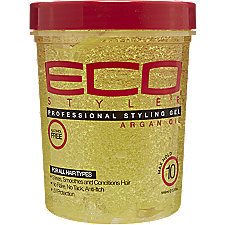 ECO STYLER with MOROCCAN OIL STYLING GEL, 32oz
$5, Sally Beauty
I've been doing a fairly decent job at avoiding buying products I don't need. I don't have any problem with product junkies (and if I could afford it, I would be way more of one), but might as well save money on my hair. The only reason I was hesitant to try this product was because it comes in such a huge container. So if for some reason I didn't love it...I knew I would be stuck with 32oz of it (a whole lot!). Turns out, I love it. Since I've bought this stuff (about a couple weeks ago, maybe?), I've been styling my hair with wash-and-goes a lot more frequently because I actually like the results. I find blow drying each section separately while stretching the hair helps keep some length.
I find the consistency of this gel to be slightly thicker but similar to the Kinky Curly Curling Custard (KCCC), and works just as well on my hair texture and length as far as what I have noticed. The Eco Styler is thicker and stickier than the KCCC, but still has a soft hold. I have never tried the Eco Styler with Olive Oil Gel, but I have heard that this gel, with argan oil, feels slightly thinner than the olive oil one. The first time I used this product, I applied very little because I was afraid of it being too gel-like. Now I've been putting it on slightly heavier for a stronger hold. When my hair dries, I just smooth on a little bit of oil to soften the hold and to scrunch out the crunch. Lately I've been using argan oil because I ran out of coconut oil (which melted and spilled all out of the jar on the drive home from Michigan...sad face).
I love that Eco Styler contains Moroccan argan oil. It's one of the latter ingredients on the list, so it's not very concentrated, but it's there. A little argan oil goes a long way.
$5 for 32oz...this jar is HUGE. Beats the price of any other styling product I've ever bought. Ever.
You can get fairly soft day 1 curls and fairly well defined 2 and 3 day curls. You don't really have to sacrifice softness for definition with this product, depending on how much you use. If I use styling tools like curlers or curl rods (or twists) the curls are even softer.
Very mild. Won't leave your hair smelling like cake.
As all Eco Styler products are, I believe.
What's there not to love:
I don't hate anything about Eco Styler gel. I notice if I put it on too heavy, it will flake a bit or get crunchy. This isn't difficult to avoid if I just don't cake it on. I try to use little product, anyway, so this isn't a huge problem. I also don't mind washing my hair a couple times a week. If you go for 100% all natural products, this may not be the best product for you. The ingredient list isn't horrible, but there are some inorganic things in it. This makes me question long term use, if some of the ingredients may actual dry out my hair. I would never put this on my hair without first applying a moisturizer.
Water, Carbomer, Hydrolyzed Wheat Protein, PVP, Glycerin, Trithanolamine, Sodium Hydrxymethylglycnate, Plysorbate 20, Tetrasodim EDTA, Argan oil, Fragrance, Yellow #11