I was never really big into make up, but lately for whatever reason I've been more regular about wearing make up on a daily basis. I've been using the same stuff pretty religiously for the past year or two so I wanted to try something new. I've heard good reviews about the
Fashion Fair
line, and I like that it has a wide range of darker toned colors. It feels as though it is always ten times harder for darker skinned people to find make up (why is that??). The lady at the kiosk gave me a fun Fashion Fair sample make over. I liked the results and so I walked away with three new products. Overall, the not-so-great about Fashion Fair products are...
1.
They are somewhat pricey.
Especially for those of us who aren't used to dishing out a lot of money on make up or who find their make up in Target. If it weren't for a Macy's gift card (thank you, lovely boyfriend) and Santa (aka Mom), the contents of my make up bag would be exactly the same as they were before. Compared to all the other quality make up brands, though, their prices are comparable.
2.
They don't offer many lighter shades.
This line is not made for white people. Even tan skinned people may have a hard time finding a shade in stores if they are a lighter tan. I ended up buying the lightest stick foundation they offered. Although, considering a lot of the more popular make up lines out there don't offer many (or in some cases any) dark shades, this isn't such a bad complaint I don't think. Also, they sell more colors online then they do at the kiosks.
I also added a couple of
Mac Lipsticks
, one new color and one tried and true, along with a
Nars blush
that I have been wanting for a while now.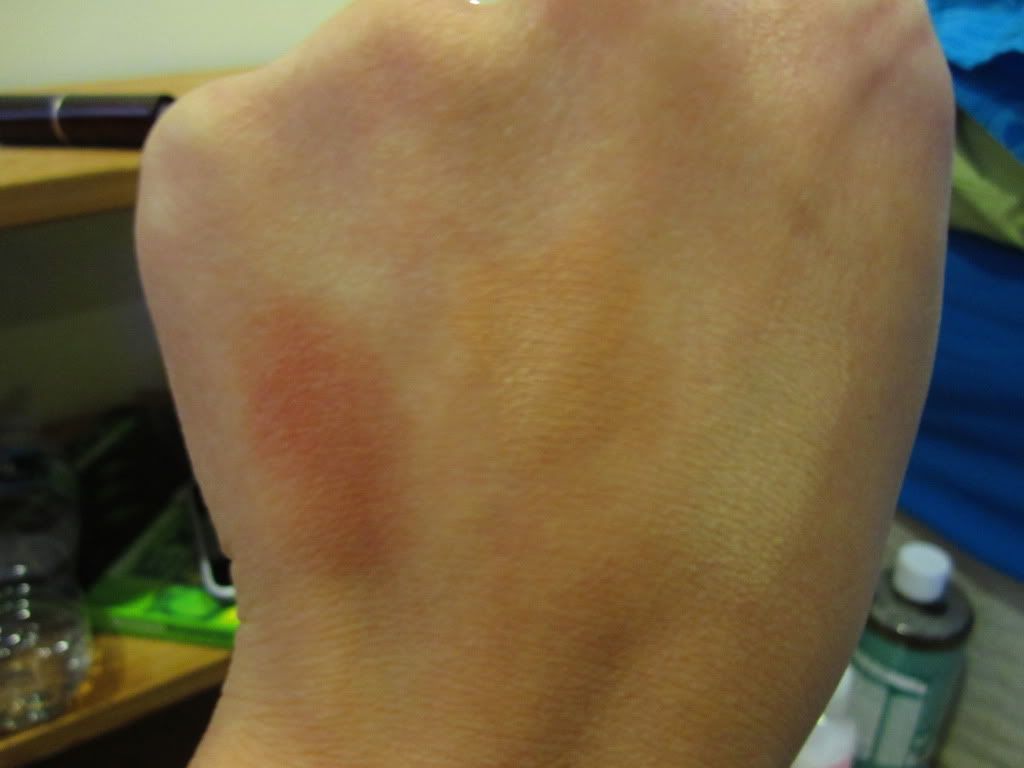 From left to right:
Fashion Fair Beauty Blush in Warm Sand, $17
Fashion Fair Fast Finish Foundation in Honey, $28
Fashion Fair Pressed Powder in Cashew, $22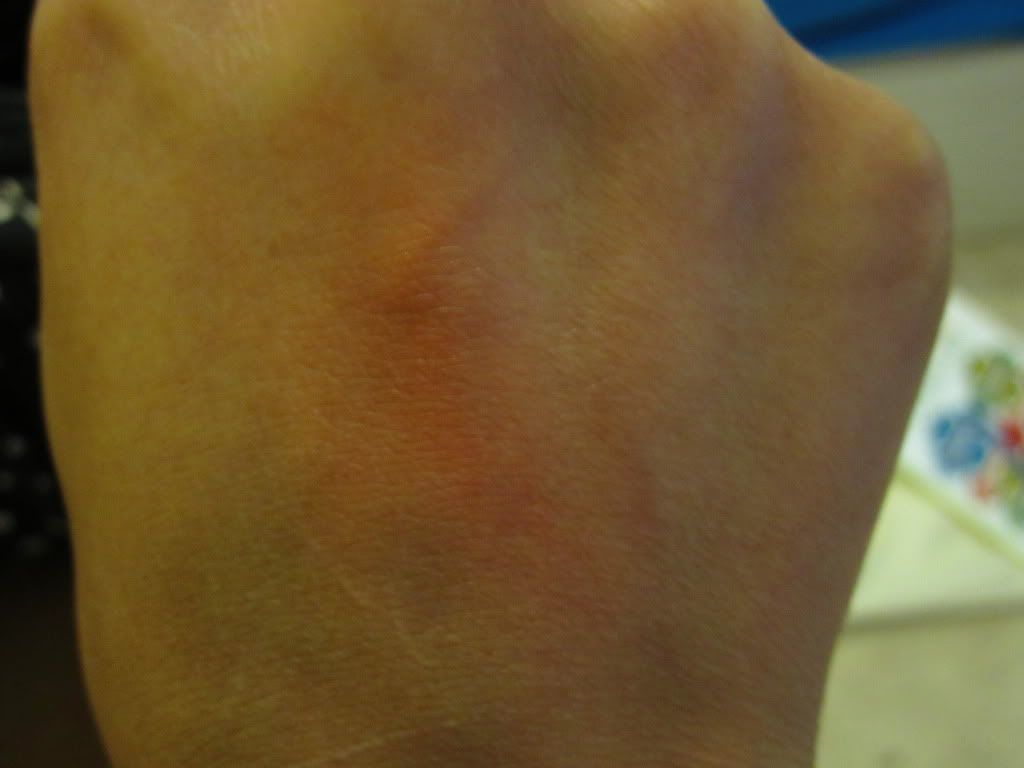 Nars Blush in Exhibit A, $27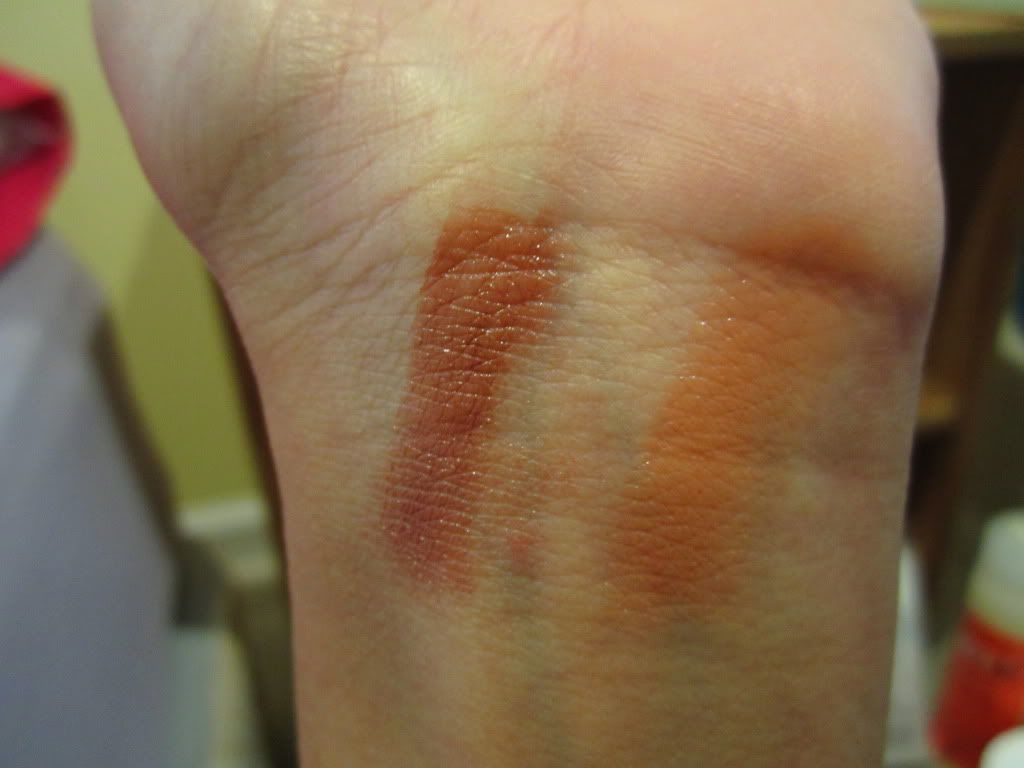 From left to right:
Mac Lipstick in Touch, $14.50
Mac Lipstick in Freckletone, $14.50
My thoughts:
Fashion Fair Pressed Powder in Cashew
The color in this image is slightly off. The true color is closer to how it looks in the pictures above. There were a couple of lighter shades than this in the pressed powders, but of course not many. I got this because the foundation seemed to be slightly darker than my skin tone and so this powder lightens it up a bit. So far, I like the powder a lot. I especially like that it's pressed and compact, unlike the loose powder that I'm used to using. This makes it so much simpler to use and easy to carry around in my purse if I want to.
Fashion Fair Fast Finish Foundation in Honey
I thought I would try out these stick foundations because one, they didn't have liquid foundation in my shade, and two, because I thought they seemed fun, less wasteful, and easier to apply than liquid foundation. They can work as both a foundation and light concealer. After using mine several times, I wouldn't suggest these for people with dry skin. They are not very moisturizing at all and have a powdery finish. If you have more combination or oily skin, though, I think the stick foundations will work nicely. I've noticed that after applying the stick foundation and pressed powder, my face is oil free all day, unlike when I use liquid foundations.
Either way, I would suggest applying the stick foundation only after applying a facial moisturizer.
Since you have to apply it by literally drawing lines on your face, blending takes a little more time, but as long as you take the time, the finished results look good -- light weight and natural.
Fashion Fair Beauty Blush in Warm Sand
I had to try out a new blush because I was getting so sick of pink. I wanted something a little older and darker and less cutesy. Between the more reddish shades, this one was the darkest, I believe. I could have gone with one of the lighter reds, but the lighter one looked too similar to my Nars blush and I wanted something different. This comes out a deep reddish purple. It may actually be kind of dark for my skin tone, but if I put it on lightly, it works as an every day look and I like it a lot. On days when I feel a little more bold, maybe I'll put it on slightly darker.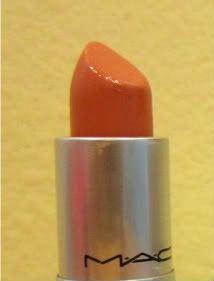 Mac Lipstick in Freckletone
Over this past Summer I started liking the nude lip look. It was kind of a long search trying to find a nude color for my skin tone. Some colors that were supposed to be nude were too greenish for me and I felt like I looked like a corpse. When I first tried on this color, I sort of felt like maybe it was too greenish, but after I got used to it, I liked it a lot. I think I wasn't used to seeing nude colored lipstick on myself. Sadly, I ran out of my last tube, so I figured I'd get another one because I know I like it. I feel like nude lips can work for any day, any occasion, so I wear this a lot. Freckletone has a lustre finish and goes on somewhat sheer and very smooth, so the color is neither very intense nor long lasting. This may be a dislike for some people, but doesn't bother me. It also kind of lightens up a darker look, if the rest of your ensemble is dark.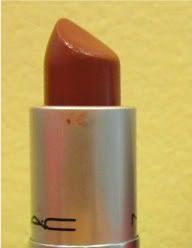 Mac Lipstick in Touch
This is a new color I'm trying out and it's quite a bit darker. I was thinking of looking for a red that I liked, but kind of chickened out and got something less bold instead, because knowing myself, I will rarely wear bright red lipstick. For whatever reason, I feel like I'll pull of red lipstick better with longer hair. Touch is more practical than red, I'd say, because it's kind of an easy medium -- enough color that it is noticeable, but modest enough that I'd feel comfortable wearing it whenever, really. Obviously, I think it's a very pretty color since I bought it. Touch also has a lustre finish. It does go on a bit more solid than Freckletone, but still very smooth which I like. I think the color lasts longer since it's darker, too.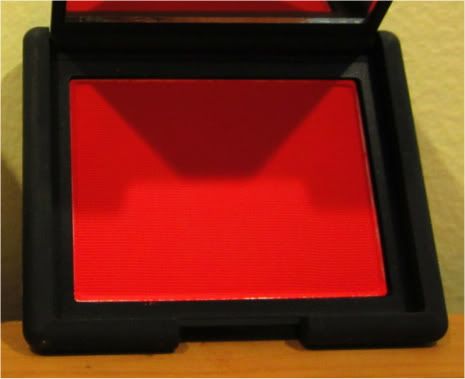 Nars Blush in Exhibit A
Isn't this color fun? I probably would have never thought about getting this if one of my friends didn't have me try it on. It just looks so bright. It really doesn't look that red when on, though. Especially for darker skin. It
can
look that red, if you want it to and if you put it on heavy, which I don't do (but why not have bright red cheeks every now and then?). Also, like I said before, I'm just sick of pink. I'll probably never use a pink blush until I'm all out of both this one and the Fashion Fair Beauty Blush. I think pink is pretty, but in my case, just over used.
And that's all of the new for now...
-doe