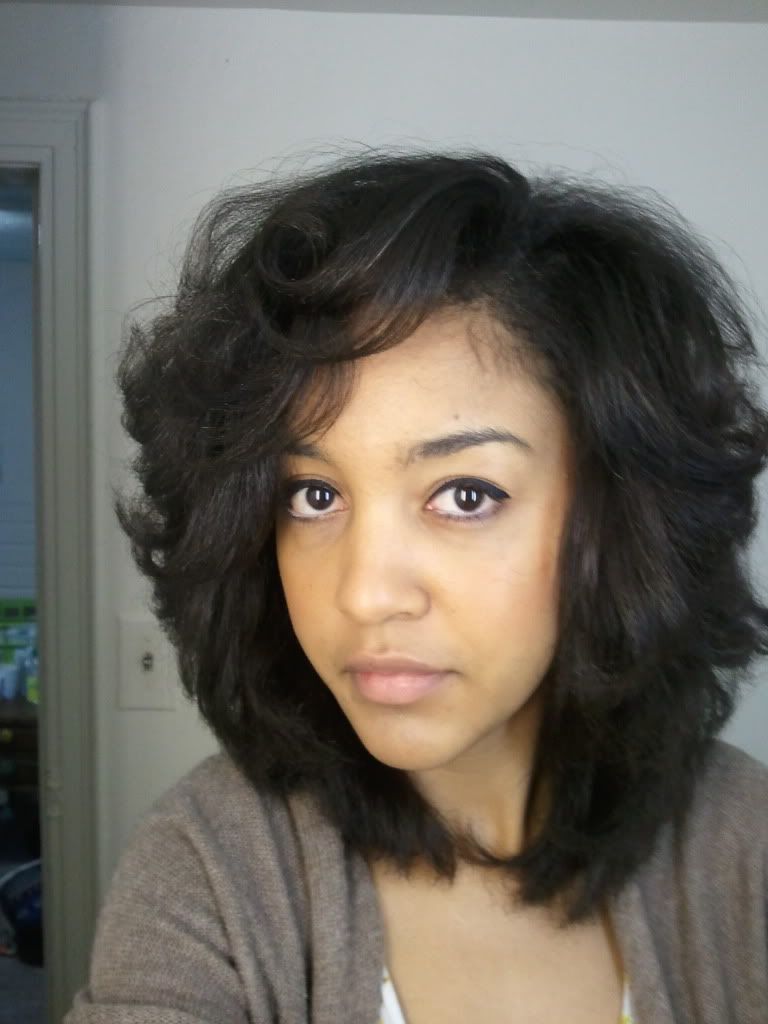 I don't straighten my hair too often because I get scared that every time I straighten it, my ends will break off. I like straight styles but I try to keep the use of my straightener to a minimum which I am hoping will help it to grow. When I do straighten it, I try to deep condition the night before to give my hair a boost of moisture and elasticity to help prevent breakage.
I'm not picky with deep conditioners but I happened to have these ingredients in my house and so these are what I used to make a safflower coconut oil mask. This is very oily, so if you don't use shampoo, I would suggest leaving out the oils and just using coconut milk alone or oat milk instead.
I heated up my ingredients in a bowl so that they would mix and so they would soak into my thirsty hair. I find that pre-straightening masks help prevent as much breakage from happening the next day. I also find I don't shed as much in the shower and when detangling.
Pre-Straightening Hair Mask:
Safflower Coconut Oil Mask Recipe:
1/2 C. coconut milk
1 Tbs. Safflower oil
1 Tbs. Coconut oil
Top:
Over night hair mask (Safflower coconut)
Bottom, left to right:
Trader Joe's Nourish Spa Shampoo
Trader Joe's Nourish Spa Conditioner
Giovanni Direct Leave-In Weightless Moisture Conditioner
Giovanni Vitapro Fusion Protective Leave-In Treatment
Smooth N Shine Polishing Instant Repair Hair Polisher
My 4-Step Straightening Routine: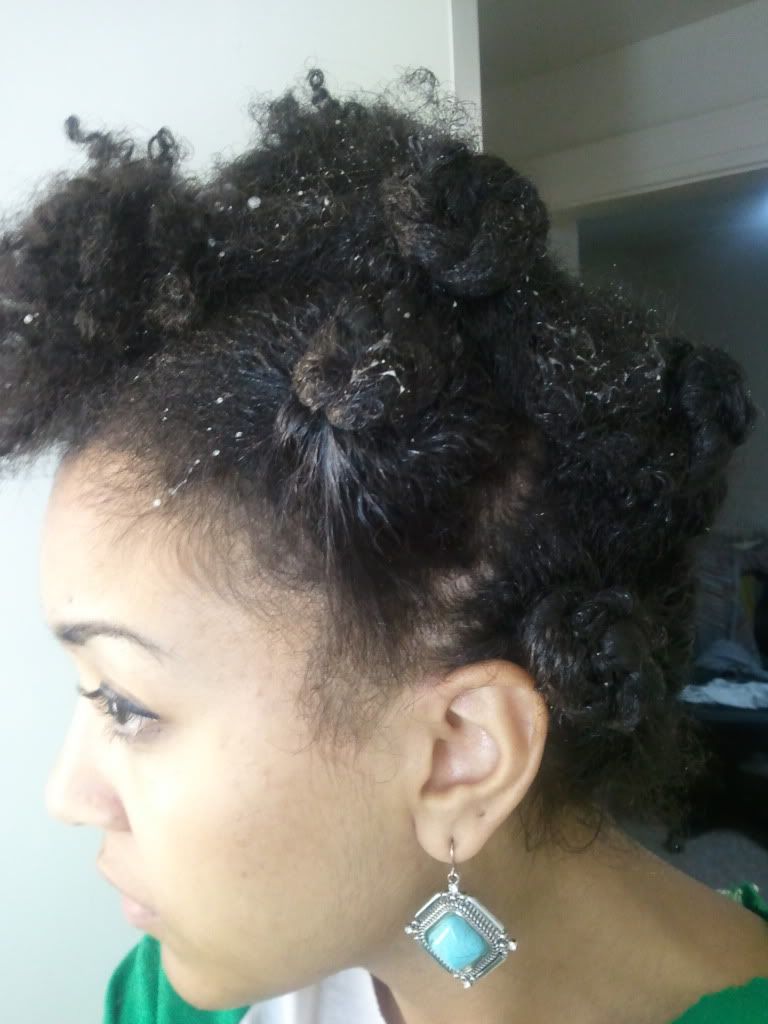 To apply the mask, I separate my hair into four sections. I apply the mask to each section and twist into bantu knots as I go to keep my hair less tangled. I end up with around 8-10 twists (2-3 per section). I cover the hair with a plastic bag and then slept with the mask in.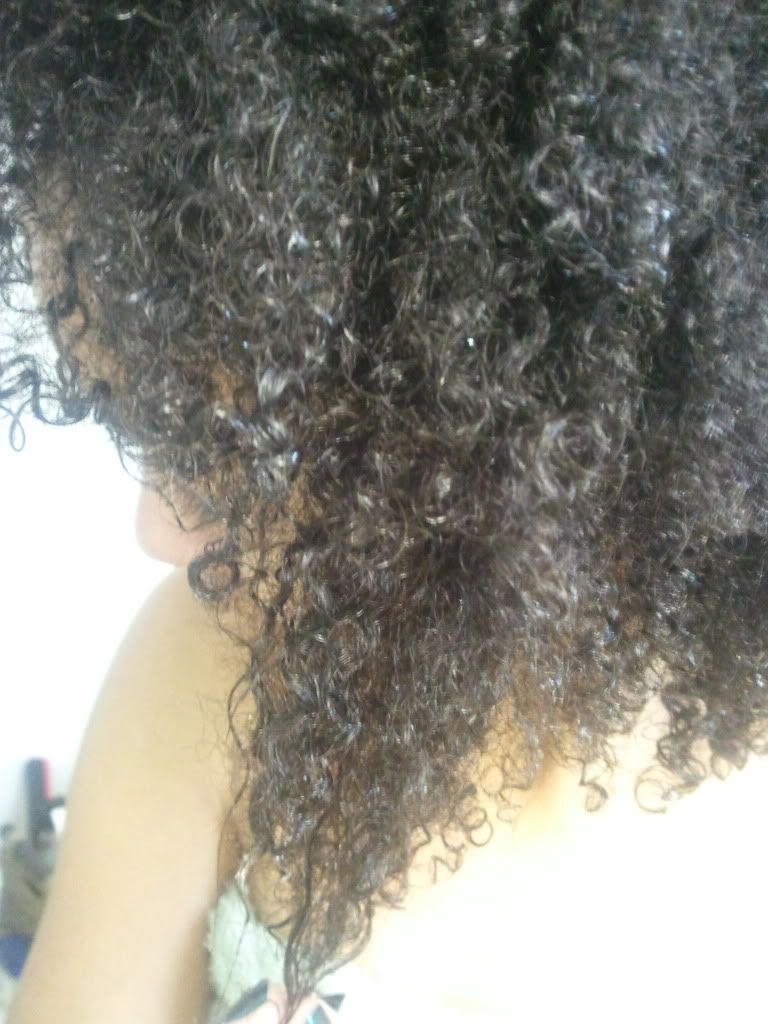 The next morning I shampoo and condition using
Trader Joe's Nourish Spa shampoo and conditioner
. Since the mask I used is extremely oily, I shampoo twice. I leave the conditioner in for about 5 minutes and then rinse it out. After I rinse, I add less than a quarter sized amount of conditioner back into my hair and scrunch it through. I don't rinse this out entirely which helps with detangling later. (Freshly washed hair above).
After my hair is washed, I dab with a towel to remove excess water and then part into four sections for detangling. I apply a dime sized amount of the
Giovanni Direct Leave-In
to each of the four sections and come through with my Denman brush from ends to roots.
I keep my hair divided into 4 sections for blow drying, too. Before blow drying, I spray on a few pumps of a light non-oily heat protectant (
Giovanni Vitapro Fusion Protective Leave-In Treatment)
onto each section since I use the high heat setting
. I split each of the 4 sections into 2-3 smaller sections and blow dry each section, clipping straight hair out of the way as I go.
I don't have a comb attachment to my blow dryer so I use the Denman brush to smooth out my hair while I blow dry straight. If I had a blow dryer with a comb attachment, I'd use that.
After blowing out my hair, I part into 4 sections. I apply a dime size amount (very little) of a heat protecant serum (
Smooth N Shine Polishing Instant Repair Hair Polisher) evenly onto each section.
The cones in this product help smooth and shine the hair making the straight style last longer.
I work with a small strand of hair at a time, clipping back the rest of the section out of the way. I brush through gently with my Denman brush (or a small comb) and then run my straightener over twice. If I need to, I comb through again and re-straighten. After I finish straightening the section, I leave the hair out and move on the other sections until it's done.
The way my hair is cut is really layered so I accentuate the layers by rolling the straighter under as I pull which adds some texture and volume.