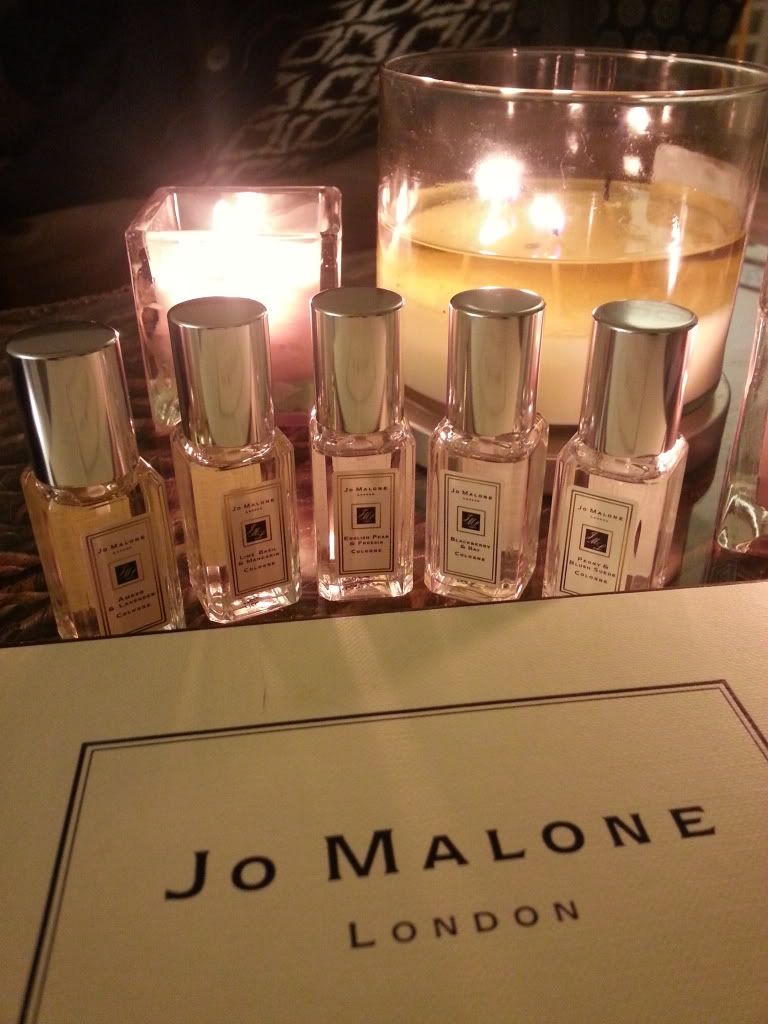 This was a spontaneous buy...and I really like it! I like the whole line of Jo Malone fragrances in general because they are simplistic but interesting and are made for layering. Mixing and matching is always fun because you get more options and I also like that most of the fragrances are meant to be unisex. My boyfriend and I actually bought this together and plan on sharing it...haha.
This set comes with five 0.3oz bottles of assorted colognes -- I think all of which are top sellers. The box includes: Amber & Lavender, Lime Basil & Mandarin, English Pear & Freesia, Blackberry & Bay, and Peony & Blush Suede and was $100 + tax (with the help of a couple gift cards...).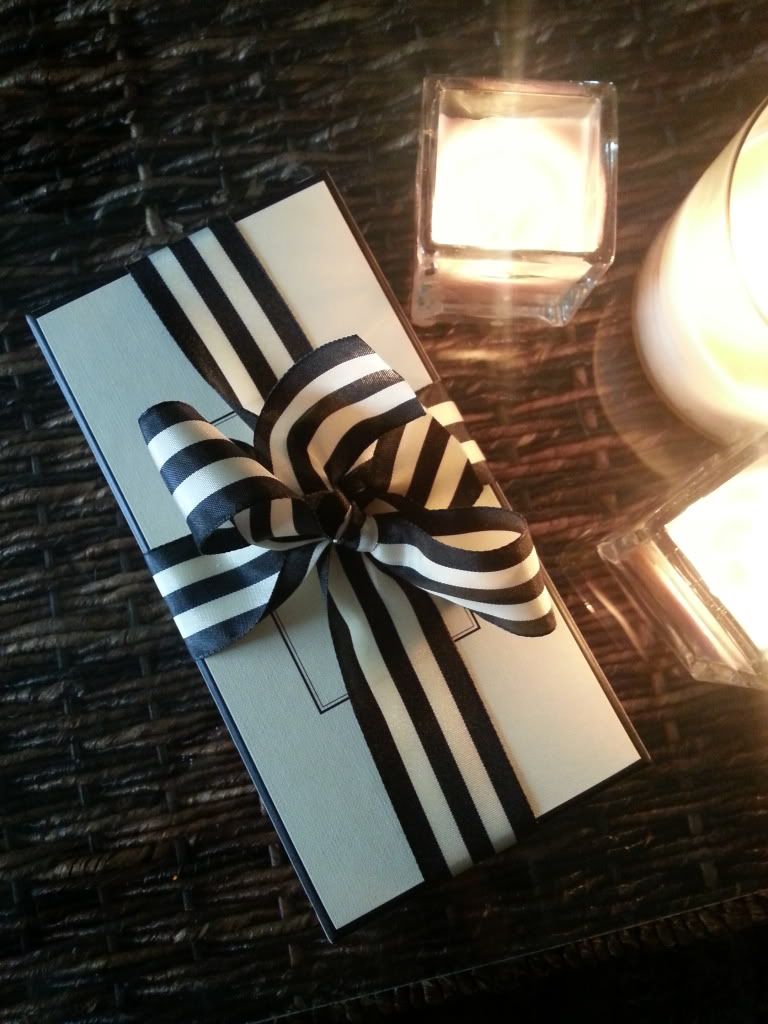 As you can see, the packaging is super cute. Which makes sense...as it's supposed to be a gift set. It was hard to open the box...lol. I also like the look and feel of the bottles themselves -- very minimal and fitting to both men and women.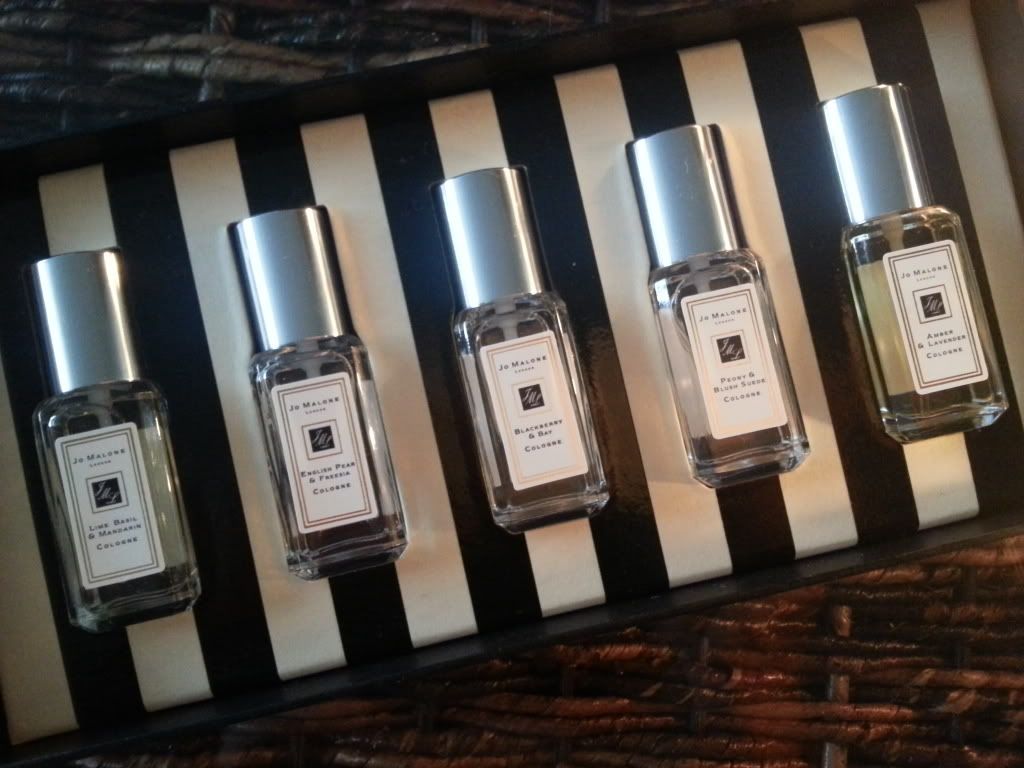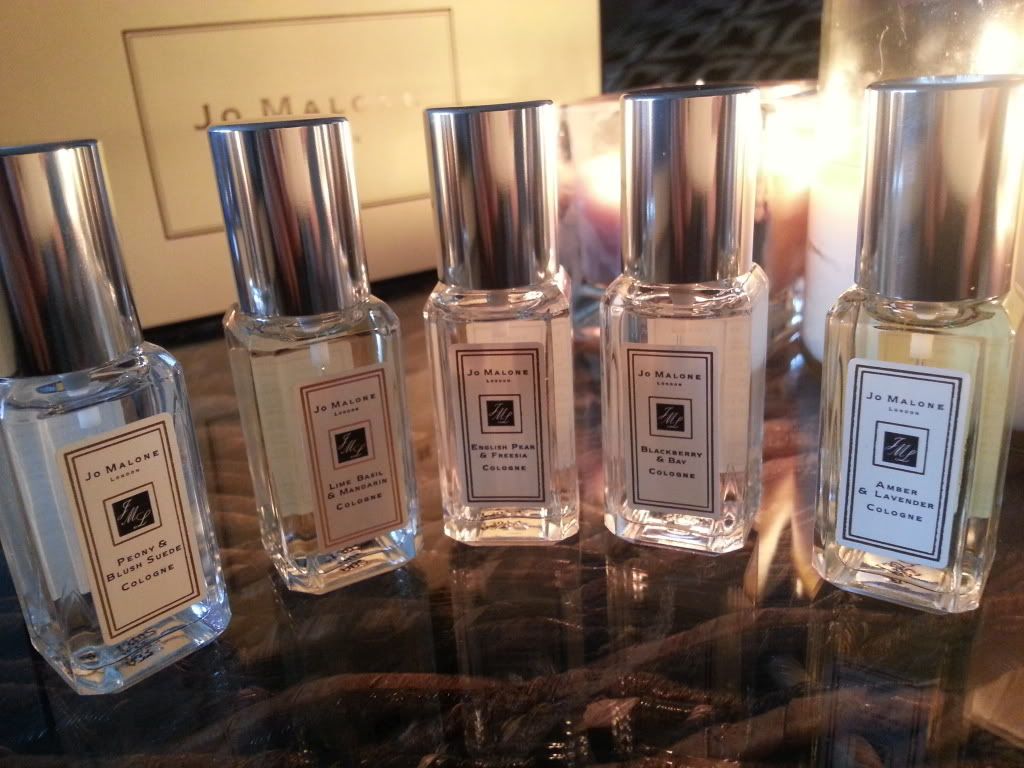 I am in no way a cologne expert...I looked up information on the notes from
fragrantica.com
:
Amber & Lavender
Notes: bergamot, lavender, mint, lily-of-the-valley, clove, cinnamon, myrrh, patchouli, amber
This one is my favorites (along with Lime Basil & Mandarin). It still passes as unisex, but does have more of a masculine feel to it -- it was made for Jo Malone's husband. I can definitely smell the amber in it -- it's a bit darker and heavier of a scent then the others and smells very distinct.
Lime Basil & Mandarin
Notes: lime, mandarin orange, bergamot, basil, lilac, iris, thyme, patchouli, vetiver
I think this is the most unique scent of this set. Even though it has a fruitiness to it, I think the basil adds an earthiness that tones down the fruitiness a lot. It's my favorite of the set next to Amber & lavender and I think this one is a tiny bit more on the masculine side but still very appropriate for women -- it just not "girly".
English Pear & Freesia
Notes: freesia, pear, quince, wild rose, rhubarb, patchouli, amber, white musk
This cologne was one of my boyfriend's favorites. It's very fresh and a mix of floral and fruity but I think mostly floral. This one is a bit more feminine than masculine I would say and also one of the lighter scents -- a bit summery.
Blackberry & Bay
Notes: grapefruit, floral, vetiver, cedar, blackberry, bay leaf
This one was also one of the boyfriend's favorites. To me, it was the darkest of all the fragrances in the set. Probably because of the blackberry. If deep purple had a smell...this might be it. Lol. I think this one would also be a good one to layer--especially if you wanted to town down a fruitier, lighter scent.
Peony & Blush Suede
Notes: red apple, peony, jasmine, carnation, rose, suede
I feel like compared to the other fragrances, this one is the most classic. I think it's good for most occasions and is very feminine and floral. It's a very pretty, light, and happy scent. I think a lot of lines have a fragrance somewhat like this one.