Photo credit: sevim.webs.com
Is it just me or does it seem like there are more and more emerging artists with
BIG CURLY
hair over the past few years? It could just be me, but either way, I love it! Maybe I should pull it together with my songwriting/guitar playing (and 'fro) and join in on this trend. Except, I need a couple of years for my TWA to catch up to these musicians' curls, and probably a few decades for my song writing abilities to catch up, too. Here are three musicians with impressive hair and music (in no particular order), all worth hearing if you haven't yet!
If you haven't heard Andy Allo's music, she's got a soft and sweet sound. This could be an off description, but her music reminds me of a cross between soul and Nora Jones. If you're into relaxing music, you will probably love her voice. I recently realized that she is part Cameroonian, like me, which is kind of neat. I don't meet or hear of Cameroonians often except at family gatherings (where there is always a ton of us!). I guess she decided to rep the home land and create a dance she calls "the Cameroon." This had me laughing. It wouldn't be as funny if Cameroonians didn't actually dance like that, but they do! Check out her moves in her video below.
______________________________________________________________________________________________________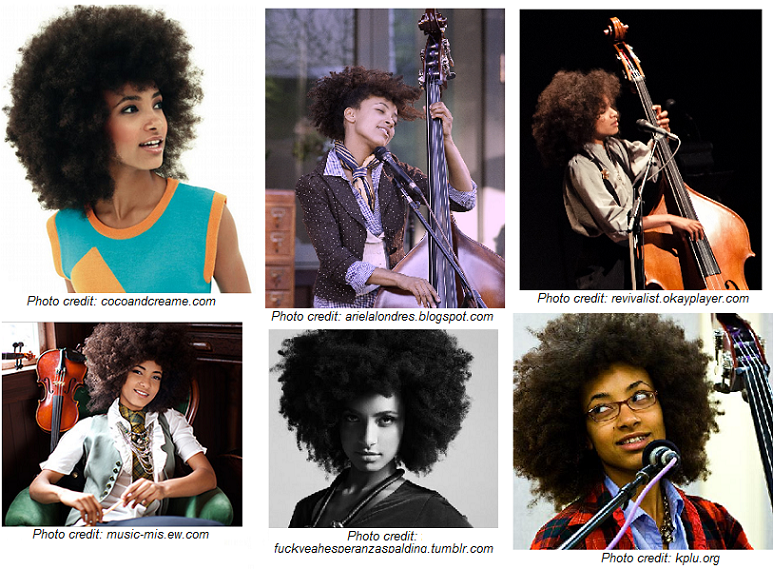 Esperanza Spalding
surprised me with her style of music when I first heard it. Very jazzy, bluesy and instrumental. She has a beautifully crisp voice, but I would guess her main focus is on the instrumental aspect of her music. She seems to be intimately connected with her instruments which I think shines through heavily in her songs. It seems as though many people agree that she is extremely talented -- she was the 2011 Grammy Award Winner for Best New Artist. One of my favorites that I've heard so far is "Little Fly." It's actually a poem by William Blake that she transformed into song. I read a lot of Blake in a poetry class I took a couple semesters ago -- my instructor loved him. So, for me, it's pretty interesting to hear the work of a familiar literary artist translated by a musical artist. You can watch her "Little Fly" music video below.
______________________________________________________________________________________________________
REAL
person from her responses. She talks a little about the hypersexualized female vocalists that the media is normalizing and how she veers away from that image, which I think is a good thing. As she said herself, she keeps her clothes on! You can hear what else she has to say in the full interview below.
-
doe