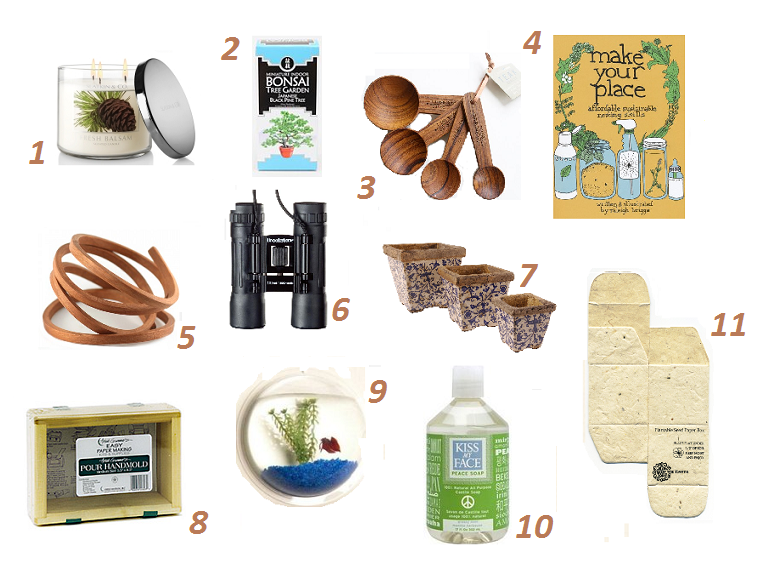 1
. Fresh Balsam Scented Candle 2/$20
bathandbodyworks.com; 2.
Bonsai tree $14,
urbanoutfitters.com; 3.
Teak Measuring Spoons $20,
merchant4.com; 4. Make Your Place: Affordable, Sustainable Nesting Skills
by Raleigh Briggs, $6,
etsy.com; 5.
Organic Coil wooden bracelet,
$160,
gustavreyes.com; 6.
10x Magnification Binoculars $29.95
brookstone.com; 7.
Blue and White Ceramic Flower Pots by Fallen Fruits, 19.99 euros, gorgeousgifts.co.uk; 8.
Paper making mold $35,
arnoldgrummer.com; 9.
Bubble Wall Mount Fish Tank, $19.44,
amazon.com; 10.
Kiss My Face b
iodegradable Peace Soaps,
$9.99, target.com; 11.
Seeded wrap boxes (will bloom if planted!) $1.84
flowerseedpaper.com
Some gift ideas for those green thumbed people in our lives who live day by day marveling their surroundings. Whether they are awe-stricken every time they step foot outside or they are environmentally conscious or they simply stuff their closets with the colors of the earth (or all of the above), it is very likely that they will enjoy these gifts. Almost everything is under $50 (except for the bracelet) which is a plus, too. I have a smaller one-wick version of the Fresh Balsam scented BBW candle -- it is my favorite of all of their winter/nature smelling candles. For small enough gifts, I think the seed paper is a great (and easy) way to wrap them. You can hide any lack of gift wrapping skills while being Earth friendly at the same time. Binoculars may seem random, but they are good for bird watching and nature walks and all those outdoorsy things. I'm not sure if the fish tank is considered nature loving or nature abuse...but I asked my cousin who is an Environmental Studies major what she thought about it and she gave it a positive reaction, so hopefully it's nature loving.
-doe