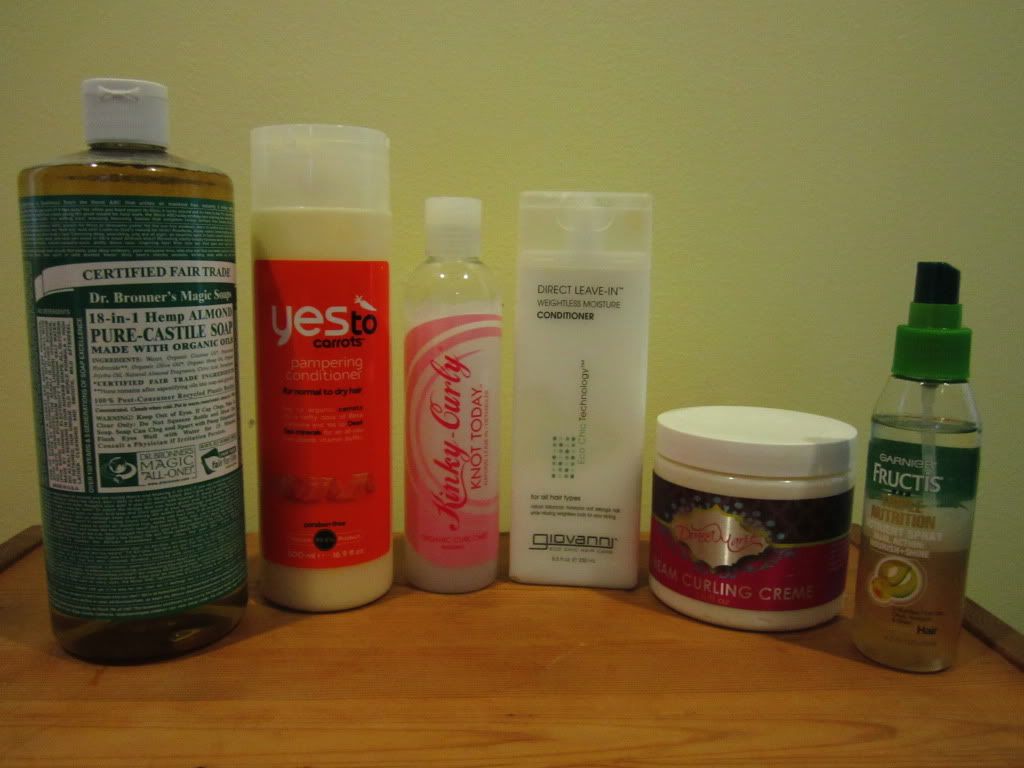 I've noticed that most napturals have pretty tried and true hair regimens that work best for them, so I think it's about time I came up with one for myself. I've never really had a routine when it comes to my hair. Instead, I usually try new products and switch things up often. Especially when I used to texturize my hair, every month it seemed like I had different hair on my head that responded differently to different treatment, so I was always trying to keep up with it. Now that my hair is going to remain the same texture for a long time -- well, probably forever -- I'm working towards finding a regimen that I can stick with so I won't have to be such a product junkie. I don't have any issues with people excessively trying new products. I think it's just a hobby like anything else could be, but for the sake of practicality and convenience, I think discovering a hair-care routine that works best for your hair is a good thing. So I'm going to try to stick to these products until the bottles run out, at least.
Maybe the product combo I've come up with isn't the best since I'm literally mixing different products at every stage. I think most people advise using one line of products in order to get the best results, but so far, my product medley has been working. My hair is still short, so styling products don't matter all that much. I'm mostly concerned with keeping my hair
HEALTHY
, moisturized and clean to promote hair growth. Admittedly, I cheat and use curling irons every now and then, so I also try to be careful about moisturizing my hair as to avoid heat damage, and I never use my curling iron on its highest setting. After going through the effort of chopping off nearly all of my hair in order to get rid of damage, it would be silly to just damage it all again.
What I've Recently been using in order of how I use them (will probably change sooner than later):
32oz, $16.99 at Target
16oz, $10.49 at Target
First,
I shampoo my hair using Dr. Bronner's Magic Soaps.
These are Castile soaps, or put more simply, vegetable oil based soaps (as opposed to animal oil based). Other brands make Castile soaps also, but this particular brand caught my eye mostly because it was the only one I saw and also because it came in many scents, including almond, and I LOVE the smell of almond extract. So. Good. A little bit of this soap goes a long way. It has a very rich but very soft lather (mostly because of the high coconut oil content) that leaves my hair feeling squeaky clean, but not necessarily stripped. I definitely would NOT skip conditioning after using this shampoo, however. Even though it has many enriching oils, it does leave my hair feeling a bit stringy and not very smooth. It is a sudsy shampoo, though, so that's to be expected. I don't mind the feel because I only shampoo once or twice a week usually and I always condition afterwards. This bottle is also good because you can use castile soap for nearly EVERYTHING, laundry, brushing your teeth, washing your car, cleaning the house, as body wash, for bathing pets...everything.
Ingredients:
H
2
O, Organic coconut oil, Potassium hydroxide, Organic olive oil, Organic hemp oil, Organic jojoba oil, Almond fragrance, Citric acid, Tocopherol
16.9oz, $8.99 at Target
After cleansing my hair,
I condition with Yes to Carrots Pampering Conditioner.
A friend of mine recommended this product to me and I agree with her -- it's a super silky conditioner. My mom actually gave me two bottles of this stuff, so I will be using it for a while. It's not bad for detangling, the slip I'd say is pretty good. After leaving this in for a few minutes, it's not hard at all to get my wide toothed comb through tangles. After rinsing out, I reapply a coin size amount to my hair, work it through, and leave it in. It contains no paraben, no petroleum, and no SLS (Sodium Lauryl Sulfate). Good stuff. It does contain a handful of chemical sounding ingredients that I have never heard of, but the product line garantees that it contains 99.8% natural products, so I'm assuming they are just complicated terminologies for simple things, or if they are chemicals, they are probably less harsh than those you would find in ordinary hair products.
Ingredients:
H
2
O, Cetearyl alcohol, Behentrimonium chloride, Cetyl esters, Carrot juice, Carrot seet oil, Dead sea water, Dead sea silt extract, Organic matricaria flower oil, Olive fruit oil, Sweet almond oil, Marigold seed oil, Pumpkin fruit extract, Sweet potato extract, Melon fruit extract, Jojoba seed oil, Wheat germ oil, Orange fruit extract, Honey extract, Pomegranate extract, Guar hydroxypropyltrimonium chloride, Fragrance, Sodium hydroxide, Sodium Benzoate, Potassium sorbate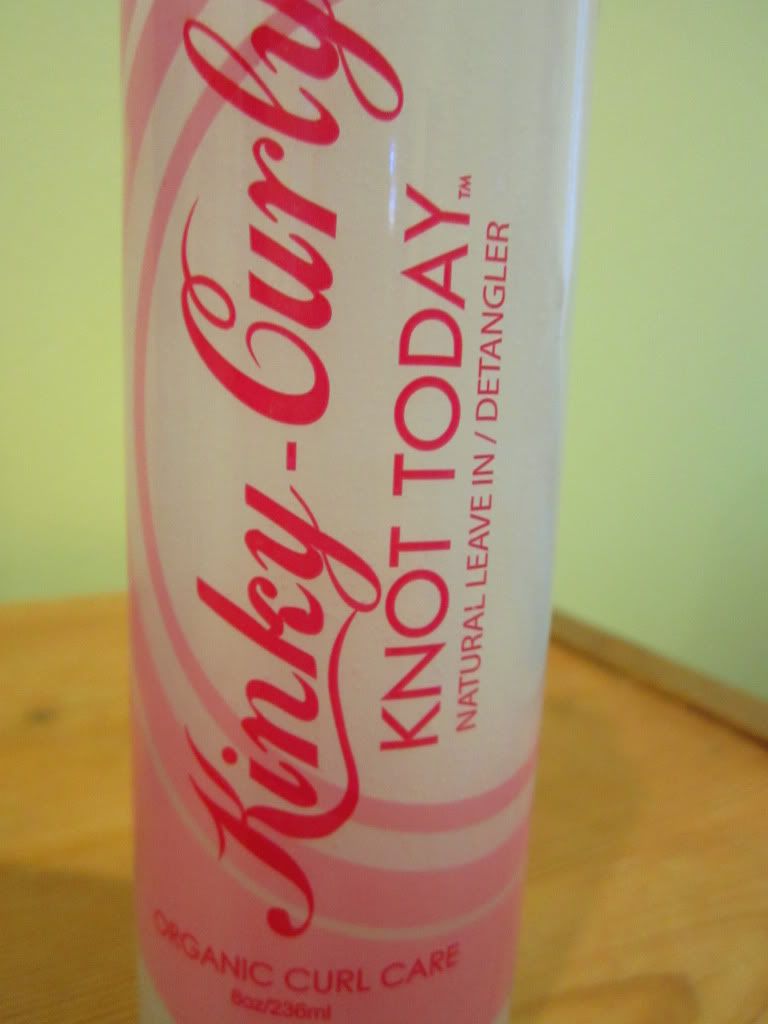 8oz, $11.99 at Target
After combing through my hair and washing out the conditioner,
I apply a small amount of Kinky Curly Knot Today Natural Leave In/Detangler.
I comb it through using a wide tooth comb for even distribution and also just to further detangle. This stuff also prevents the hair from becoming stiff or crunchy later on if you're going to use gel products. I don't use a lot of this as a leave in, I mostly just use it as a detangler. As a leave in, it's not my favorite because I prefer creamier moisturizers for my hair, but it definitely works well for running a comb through tight curls. I could probably skip this step but my mom gave me 2 bottles of this stuff...so I figured I might as well include it in the hair routine.
Ingredients:
Organic mango fruit extract, Organic slippery elm, Organic marshmallow root, Organic lemongrass, Cetyl alcohol, Behentrimonium methosulfate, citric acid, phenoxyethanol, natural fragrance.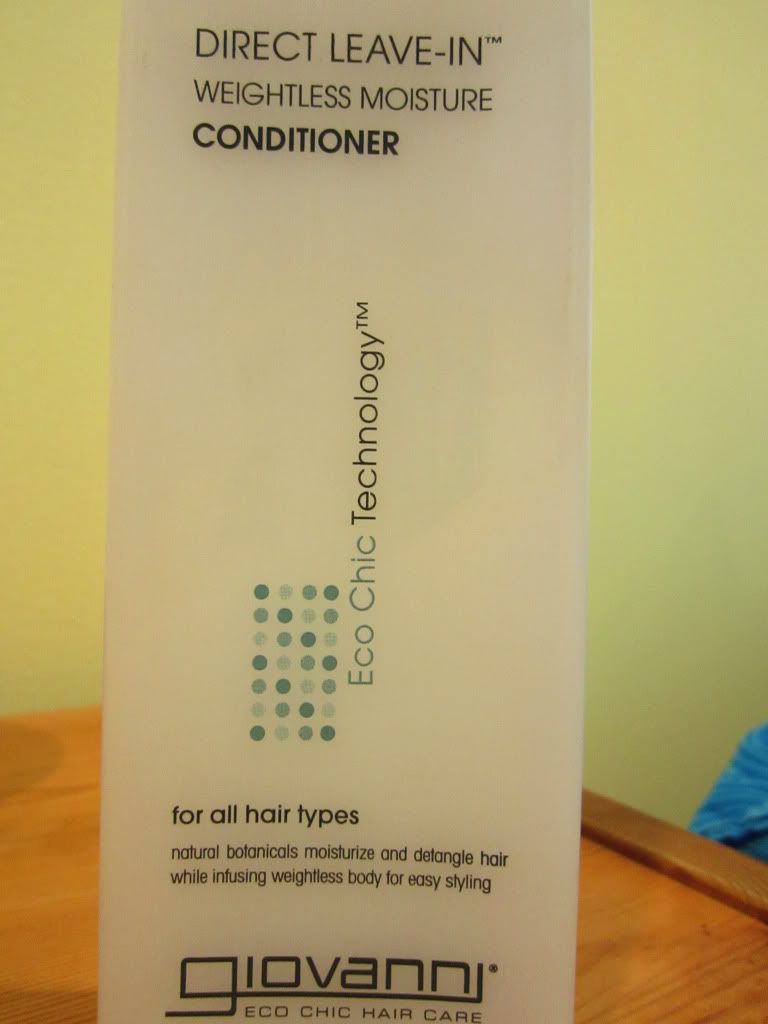 8.5oz, around $8 at Target
For a daily leave in,
I use the Giovanni Direct Leave-In Weightless Moisture Conditioner.
This moisturizer seems thicker and creamier than the Kinky Curly Knot today. It is also a bit heavier so I feel like it helps weigh my curls down a little which helps add length. It's still fairly light weight though so I usually moisturize my hair with a small amount of this stuff every morning to help protect my ends and add elasticity. It's got a fairly mild smell too so its scent is not so overpowering/in my face either. I apply this after detangling my hair and before applying any curling creams or oils.
Ingredients:
Purified H
2
O, Aloe Vera leaf juice, Sunflower seed oil, Soybean seed extract, Birch extract, Mallow extract, Yarrow extract, Matricaria flower extract, Horsetail plant extract, Lavender extract, Rosemary leaf extract, Clary extract, Thyme extract, Coltsfoot flower extract, Nettle extract, Grapefruit extract, Cetyl Alcohol, Vitamin E, Pro-Vitamin B5, Citric Acid, Phenoxyethanol, Natural fragrance.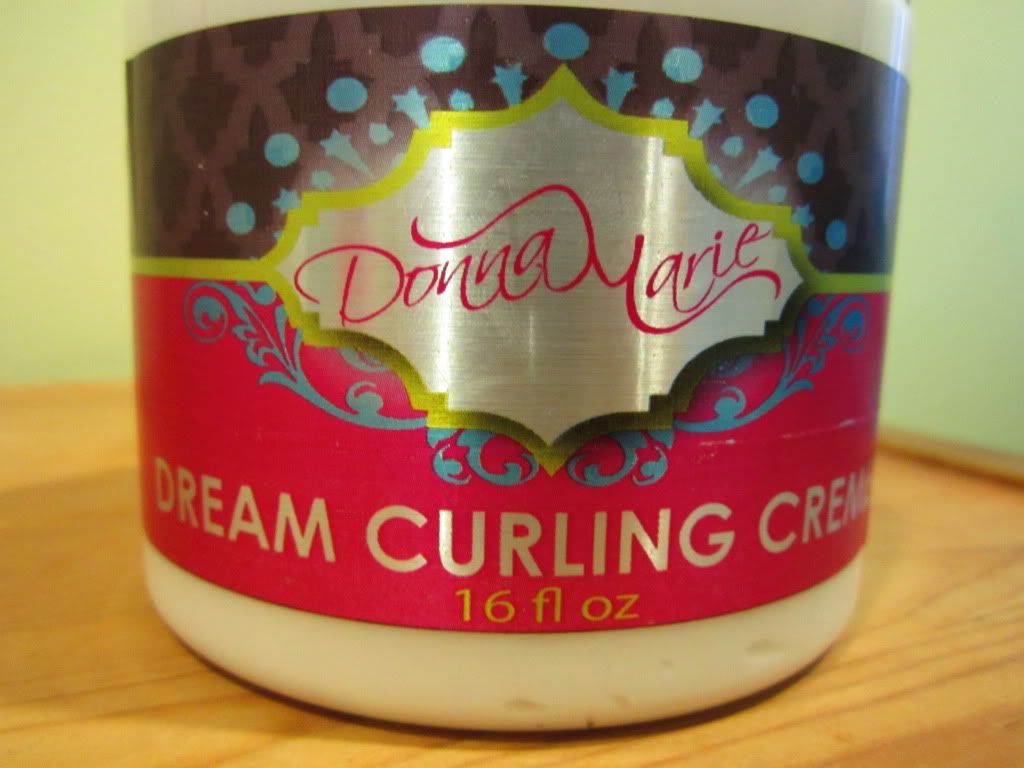 16oz, $18 at shopdonnamarie.com
After moisturizing,
I apply the Donna Marie Dream Curling Cream
throughout my hair and gently comb it through for even distribution. I have yet to try this product on dry hair, but I know it works pretty well on wet hair. I chose this product because of its good reviews and because I am looking for a non sticky, non flaky, soft hold. No crunchiness. So far, I've gotten good results. I usually diffuse my hair dry just because I get impatient walking around with wet hair -- especially in Winter Michigan weather.
Ingredients:
H
2
O, Aloe infused with rosemary, horsetail and hibiscus, Vegetable glycerin, Sweet almond oil, Sorbitol, Silk amino acids, Shea butter, Macadamia butter, Cupuacu butter, Agave nectar, Carbomer, Polysorbate 60, Xanthan gum, Phenoxythanol, Sorbic acid, Caprylyl glycol, Fragrance.
4.2oz, around $5 at Target
After applying the curl cream,
I spray Garnier Fructis Triple Nutrition Nutrient Spray evenly on my hair
. As seen in the picture, this product is both water and oil based so you have to shake it before each use so that the water and oil can mix. This leaves the hair shiny and extra soft while sealing in moisture with its olive, avocado and shea oils. I could probably skip this step, but with my hair, added moisture is always better, my hair eats up oils fast. I like that it has a spray nozzle because it makes the application easier. I have a jar of coconut oil that I also like as a sealant, but I have to heat it in order to liquefy it first, so out of laziness, I rarely use it.
Ingredients:
Actually, now that I'm reading over this, there is a lot of chemicals at the beginning of the list and all the good ingredients are at the end of the list, meaning in smaller amounts. So, for naturals, maybe this isn't the best product for long term results. I will admit, it does leave my hair immediately soft, but I will stay on the lookout for a natural, easy application oil for my hair with less chemicals.
My results directly after washing, applying products, diffusing, and stretching my curls: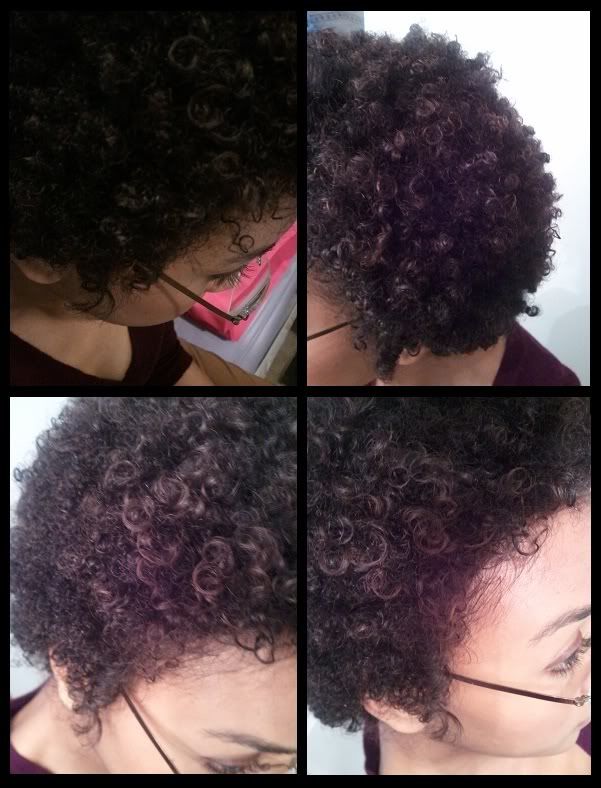 A little bit of frizz on the sides, but not so bad
I've washed my hair a couple times since I've started and so far it's working okay. I'll have to keep it up for at least a month to see the long term results and see what steps I could add or do without. Since the Donna Marie is so creamy, and has a light hold, using less moisturizer may give better results and stronger hold which I think I will do from now on so my curls will last longer. I'll probably see if the Donna Marie holds better when air dried and when applied on dry hair as well, and post those pictures later.
-doe