Photo credit: folica.com
The other night I took a spontaneous trip to Sally's Beauty and got a couple packs of the
Salon Care Snap On Rollers
. I've never used rollers -- not even when I had relaxed hair, so I was curious to see how they would work on my hair. Especially after seeing everyone else's amazing results on YouTube with curlformers and curl rods. I don't have enough length yet to invest in any of that, so I just went cheap and got these plastic rollers that were on sale for a couple dollars a pack. I got them in small (blue) and medium (purple). I slept with them in (which was hard to do) and took them out the next morning before I left for work and they were totally dry.
The Process:
Before securing the curlers, I washed and conditioned my hair, towel dried, and then moisturized with
Kinky Curly Knot Today
. I parted it into 6 sections and brushed each section with my

Denman

brush, combing a tiny bit of the
Kinky Curly Curling Custard
into each section. I really did not go heavy with this product. This is my first time using it and I've heard that if you put it on too heavy, you can get crunchy results. Since I was already using curlers I wasn't worried about having too strong of a hold because I wanted bouncy curls.
Before bed, I just loosely wrapped my hair with a silky scarf. Finding a way to sleep comfortably...was a challenge. But it probably just takes some getting used to, and at least there's no use of heat this way.
The next morning:
Here are how the curls looked after gently taking off the rollers. I rubbed coconut oil on my fingertips when taking the curlers out and when separating/fluffing in order to reduce frizz.
The Results:
This is how my hair looked directly after separating and fluffing the curls. I was very happy with it! My hair was probably softer than it has ever been when curly and it wasn't crunchy at all. Next time I may actually use a little more styling product to give it a bit of a stronger hold. Even with using very little product, it still held pretty well and a lot of the curls made it until the next day. I did touch up a couple of curls with a curling iron I haven't yet used the Kinky Curly Curling Custard on a wash and go or under a diffuser, but I will try that next time I wash it.
How it held up at the end of the day: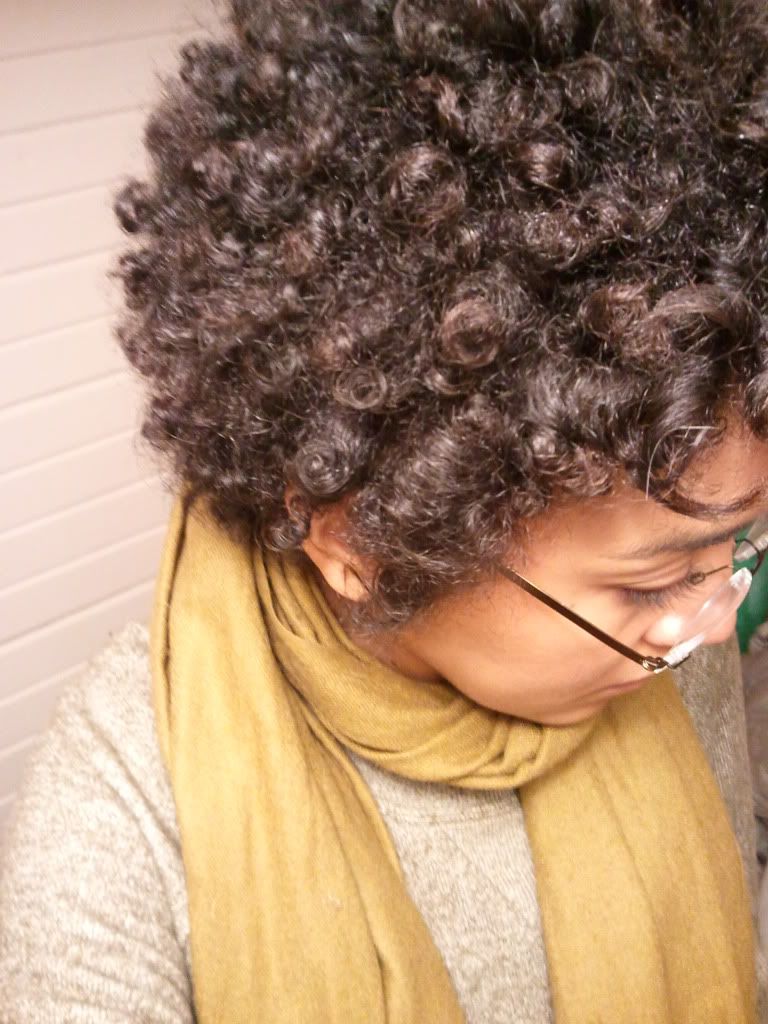 -doe