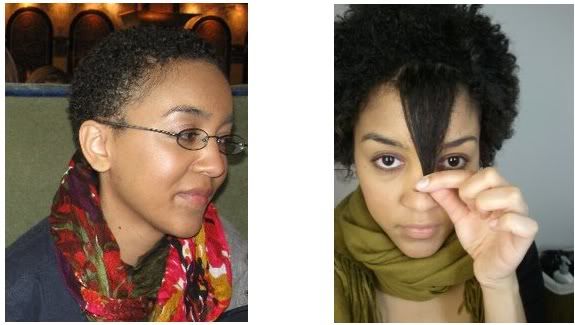 May 2011 February 2012 (9 months later)
It's only one month into the new year and I'm already miles behind on some of my resolutions. Luckily, hair grows on its own without me having to do much of anything. So if I actually come through with any of my resolutions, it will probably be 6" of hair growth by next year.
After my
big chop
, I had about an inch of hair on my head (if that -- it was super short as you can see).Now, my longest hairs near the top of my head measure to be around 5" while the shorter hairs are around 4". Either the stylist cut it kind of choppy, or different sections of my hair grow at different rates because it's definately not all even. I guess that is one of the beauties of curls...uneven ends don't really make much of a difference.
I forgot to measure it in the beginning of January, but it's definately grown quite a lot since my BC back in May. Now that it's a bit longer I'll probably try some new styles. Twists were nearly impossible and very tedious several months ago...but now I can manage sectioning my hair into about 6-8 parts without much of a struggle, which means less work for me! Generally, I haven't been very patient when I've done twists and didn't let them dry entirely before taking them down so they have never turned out very well. One of these days I'll leave them in over night and post my results.
Whenever I feel like my hair hasn't grown an inch, or I feel impatient, it's always somewhat shocking (and reassuring) to look at pictures of me 9 months ago!