Most Valentine's Days are very predictable. Red roses. Hallmark Cards. Box of chocolates. Dinner Date. Teddy bears. Jewelry maybe. Some people like all of that because it's classic and traditional, but I think unconventional is more fun in most situations -- V-day included. So, I found some ways to spruce up the basic Valentine's Day elements we expect every year to make them a little less expected. I've also tried to stay away from the traditional Reds and Pinks that go hand in hand with the predictability.
The Flowers
I love DIY flower bouquets. I feel like they have been growing in popularity. I've seen bouquets similar to this one used in weddings, even. Other than paper flowers, I've also seen them made out of buttons, food, and rolled up undies even. A fun way to lighten things up a bit -- and be eco friendly if you use thrift/recycled items. Greendiary.com has the step-by-step process to creating a
great eco friendly bouquet.
The Card
DIY Thumbprint Hearts
ienjoycuteness.tumblr.com
So, I realize this is an engagement announcement card and not a Valentines day card. But, you get the idea. I think thumbprint hearts are such a simple and personal way to decorate any home made card. Even if you do rely on Hallmark to write out your loving thoughts, a quick thumbprint heart stamp will make the "I Love You" at the end a little more heart warming. Ink pads probably work best, but I wouldn't doubt markers or paint, either. If done well, home made cards usually seem more sincere, and why not put a little effort into creating a card for the one you love?



The Gift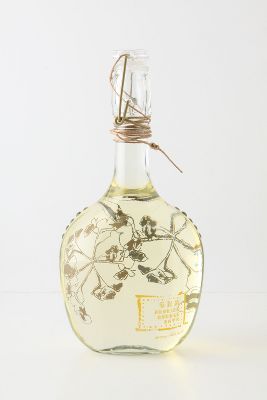 Grown Under Glass Bubble Bath
$48, Anthropology
Not everybody does gifts on V-day, but, when people do exchange gifts, it always has to be jewelry, cologne, perfume, and Teddy bears. These things are all nice, but also risky. Most of the time it's hard to really know what pieces of jewelry someone will genuinely like or will actually ever wear and I think it's equally as hard to know what exactly someone will prefer to smell like everyday. I think fancy, or not so fancy depending on your budget, bubble bath and/or bath salts make good (romantic) gifts. They work as a gift for your girlfriend or boyfriend, depending on the bottle really. If you think the packaging for bath salts is too feminine for a guy-gift, you can also just repackage the salts in a glass jar or some other container. It's a gift she/he will be sure to enjoy, because you can safely assume that she/he bathes or showers regularly.
The Chocolate
Heart Shaped Coconut Macaroons
urbanpaisley.blogspot.com
Believe it or not, not everyone is crazy about chocolate. Especially not the chocolates that usually come in the big heart shaped box of chocolates we are all used to seeing. Boxes of chocolate can be fun because you never know what you'll get -- but at the same time, we all kind of do know what we're going to get, from getting it every year. I know I always like the coconut filled ones and never eat the rest of them. For coconut lovers like me, I think these coconut macaroons are a perfect alternative to chocolate. There are always ways to prepare them gluten free, too. I will be trying out a
coconut macaroon recipe
I found on allrecipes.com with my boyfriend tonight. (He doesn't know yet).
The Dinner
Heart Shaped Sushi
hollyshelpings.com
If you have any confidence in your cooking abilities, you can try making
Holly's Helping's heart shaped sushi.
I have never made sushi, so I can't vouch for how simple or difficult it is. But however it turns out aesthetically, I'm sure it will at least still taste good. Also, there are plenty of restaurants that offer Valentine's day special sushi on their menus, too. Other than being creative with dinner entrees, instead of just doing dinner you might want to add in some other kind of flare. Maybe dinner and salsa dancing or murder mystery dinner -- anything with a special touch to make it a dinner date to remember.