Throw pillows, Target
Patio couch, on sale at Target
Wicker storage table, Target
Wall art, an original pen & ink from my great aunt + inspiration
Over-sized floor pillow, DIY
It doesn't seem like it's actually happening. But I'm more than likely buying a house in less than ten days. Which means this new apartment will soon be an old apartment. It was a six month lease, but these six months are going by so ridiculously fast. When did I become an adult kind of? I don't know.
I never got around to putting the finishing touches on the apartment I'm in now...but since I'm moving soon I figure I will wait to make/buy wall art and the like until I end up somewhere I plan on staying in for longer than six months. I feel like I'm always moving...I've lived in four different places (not including my home in Jersey) and two different states in the past four years. Hopefully I'll get to enjoy my next home for at least a couple of years.
Anyway...I thought I would share the set up of where I live now. It's pretty small...just one bedroom and a small living area. But it's perfect for just me and Sam (cat). I tried to stay very minimal with furniture as you will see...so it doesn't feel cramped at all. I also put this apartment together on a budget...you'll notice half of my things are either DIY, partially DIY, or from Target.
The only things I think are missing from this apartment...would be a wood floor, curtains, wall art and maybe a dresser or bed frame in my bedroom.
DIY succulent centerpiece, plants from Home Depot, vase from Michael's
Small book shelf, Pier One Imports
Buddha book ends, Pier One Imports
Reupholstered stools, stools on clearance at Target, fabric from Joan Fabrics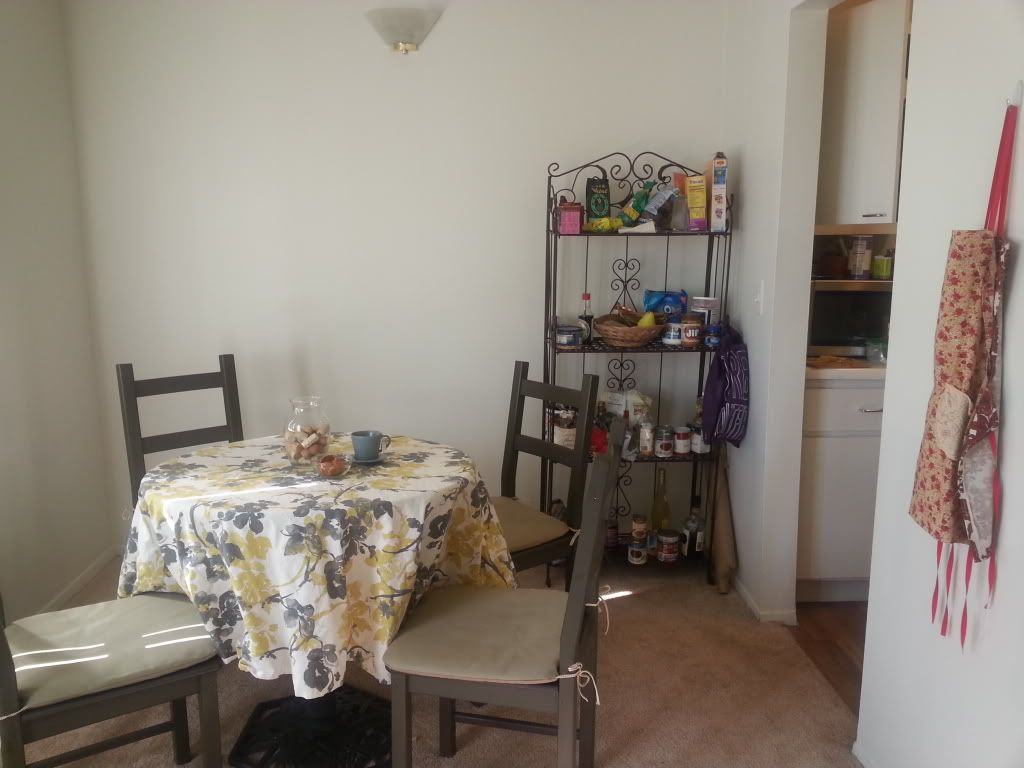 Aprons, the rejects from my Latidoe shop
Table, I built
Tablecloth, Target
Chairs, repainted unfinished wood chairs from Ikea
Rug, Target
Painting, an original acrylic of mine from 2008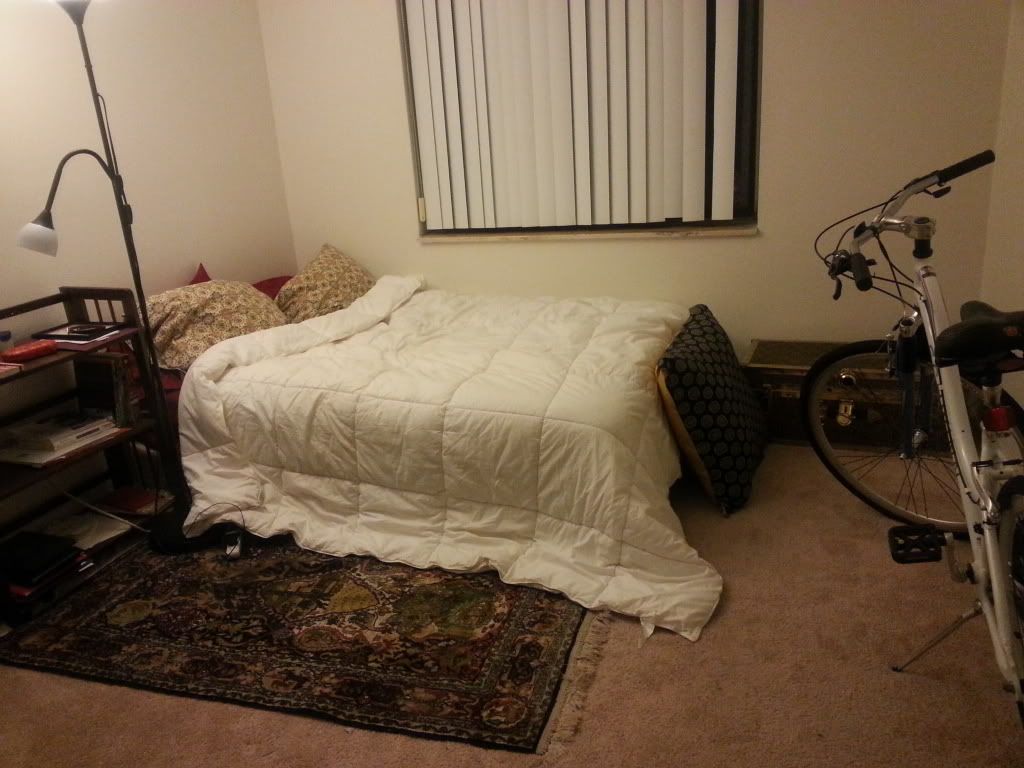 Rug, a Persian inherited from my Grandma
Trunk, recovered a trunk from Salvation Army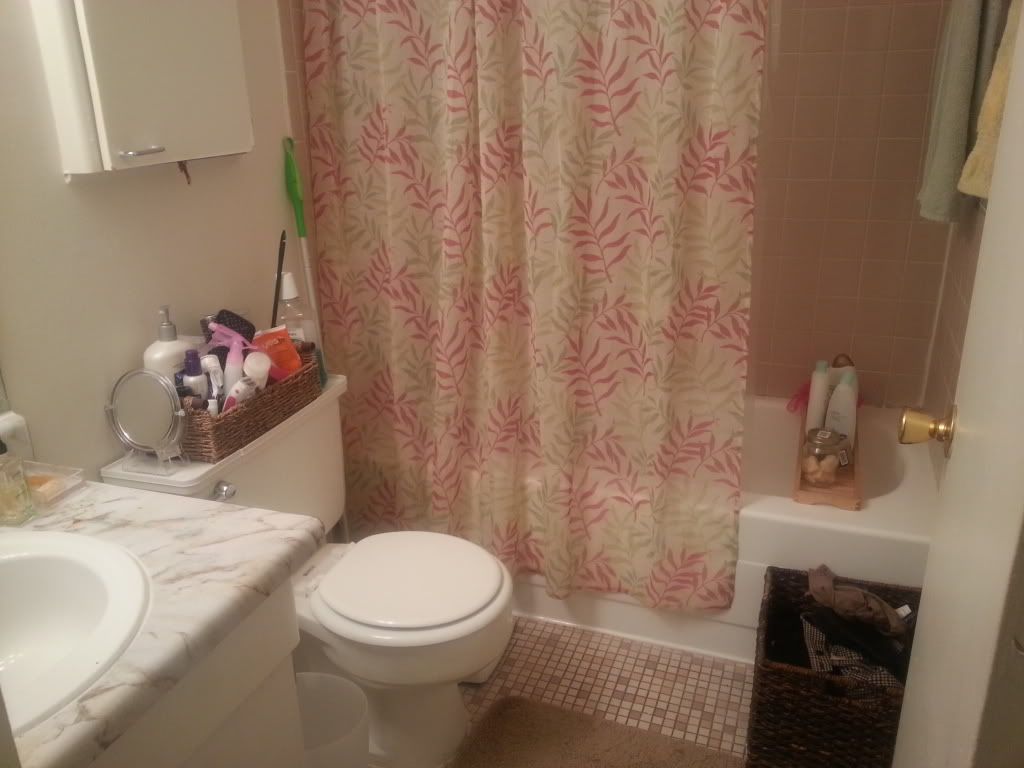 Shower curtain, Meijer (I think...)
Bamboo bath shelf, Ikea
Wicker baskets, Bath & Body Works + Target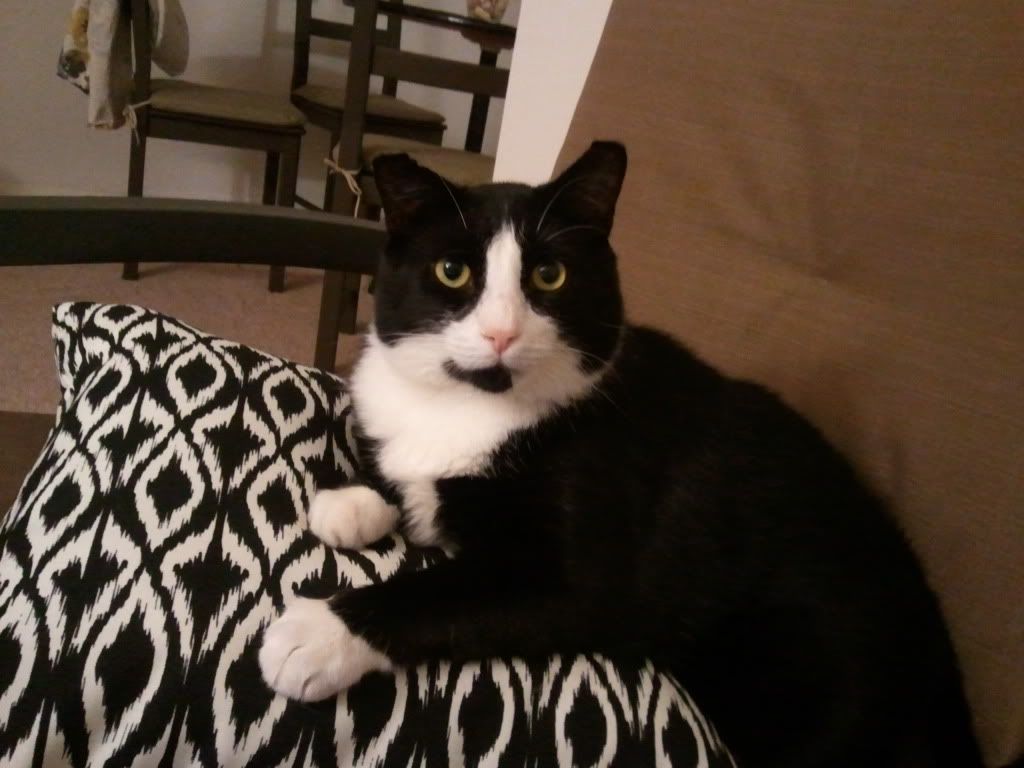 Samedi (aka Samson) the cat, for free