My favorite wash and go combo lately has been EcoStyler + Giovanni Direct Leave in. It's so basic...but it never fails. And both products are super affordable...Giovanni under $10, EcoStyler under $5. And a little goes a long way for both products.
I like the combo because it gives a fairly decent hold (I can usually get 3+ days out of a style) and it is super soft. Definitely the softest and least crunchiest combo I've ever tried. Even softer than curl creams/milks/puddings. I also like this combo because it doesn't leave my hair so greasy.
It does probably increase dry time, though. So I usually sit under a hooded dryer for around 30 minutes the night before and then style it the next morning when it's thoroughly dry. If you wait to tension blow dry (
tutorial here
) until your hair is completely dry, it will be the most defined and the most limp. If you want fluffier, closer-to-second-day hair (like my pictures below) then dry your hair until it's about 85-90% dry and then tension blow dry on slightly damp hair. The dampness will naturally bring out a bit of frizz for a more bouncy, fluffy, untamed look.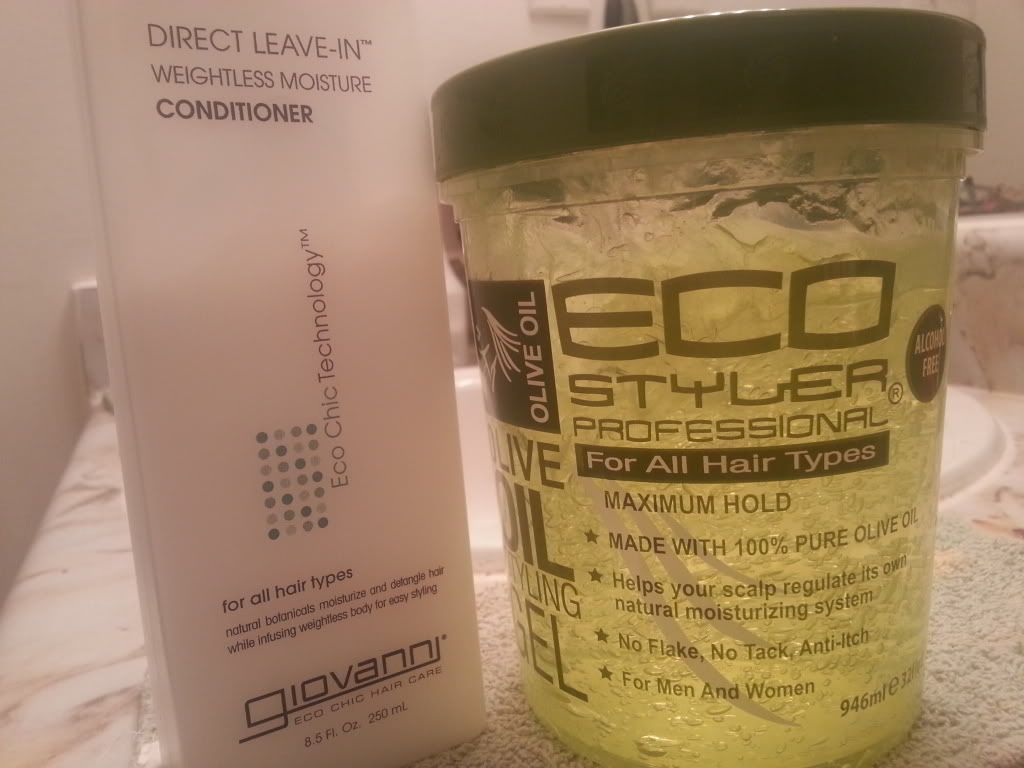 Giovanni Direct Leave In
EcoStyler Gel
Brush for detangling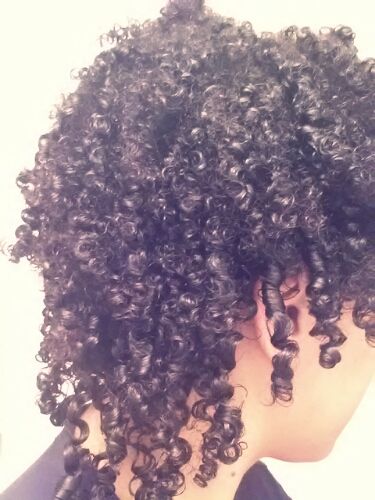 This is how my hair looks completely wet. This is after detangling and adding product. First I sectioned into around 4-6 parts, applied a small amount of leave in to each section and detangled. I applied a modest amount of ecostyler on top of the leave in to each section as I went. The more EcoStyler you use, the more tight and defined your curls will be. But don't use too much or you might have some crunchiness and flaking.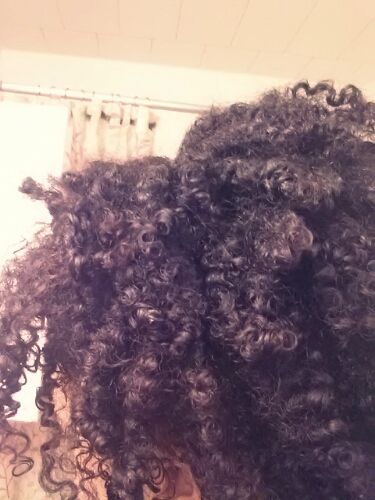 This is my hair about 85% dry after sitting under my hooded dryer. To fluff it out, I used the tension blow drying method. Which means separating hair into multiple sections, and pulling smaller strands of hair taut while blow drying the hair. Don't tension blow dry too long on each section or you'll have a blow out. You just want to stretch the curls a bit, not straighten them.
To preserve the curls, I pinned my hair back and covered it with a wig cap, actually. This just secured the hair in place to avoid friction from tossing + turning in my sleep...the next morning, I sectioned it into roughly 4 sections and very loosely and briefly blew it out using blow dryer on my roots to give my hair its shape again.
As you can see, the curls are not perfectly defined because my hair was still somewhat damp when I tension blow dried This gives the illusion of 2nd or 3rd day hair because it's not as perfect. Which I kind of like!