Chris-Tia from Thank God I'm Natural sent me a bundle of products a while back which I've been using slowly and loving. I don't usually experiment a whole lot with new products because I kind of have my tried and true, but if I could (afford it...) I totally would more!
People love her Buttercream Daily Moisturizer -- I actually gave mine to my little sister who loves it on her curly hair after she asked if she could keep it. She liked the twist and define cream, too, but didn't want to steal all my products. :)
I've used this product on a wash and go as well and got good results -- so you don't actually have to twist your hair for definition when using this product but I find that it works best on twist outs. To get this look, I did a regular twist out using Giovanni Direct Leave In as a leave in and then applied TGIN Twist & Define Cream on top to lock the curls in place.
Use a generous amount of leave in (I used this much of Giovanni Direct Leave in) and apply evenly throughout all of your hair. To apply, I separate my hair into 4 sections, then apply product to each. But in total, that's about how much product I used.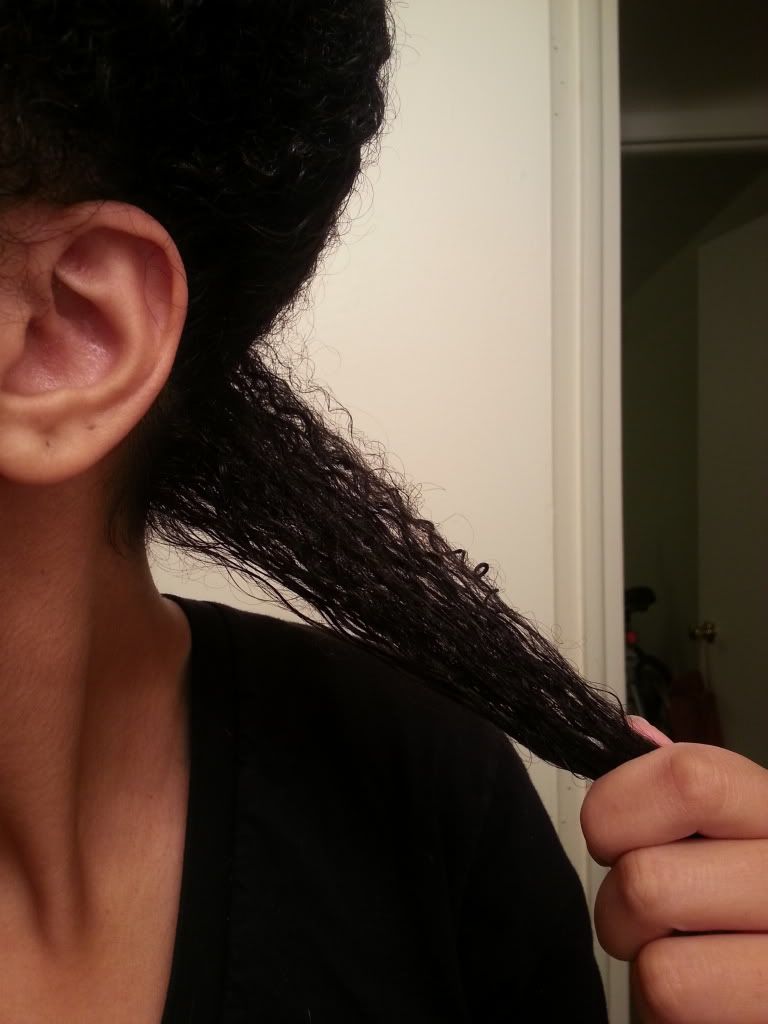 Section your hair into quarters and work with small strands of hair -- this is the amount of hair I used for each twist. As I got closer to the crown of my head, I used a bit more hair for each twist to make them a tiny bit chunkier. I also kept my side part -- this avoids flat hair on top later.
I detangled each small section then applied a small amount (dime size or less) of the TGIN Twist & Define Cream to each strand. I then twisted each strand into a two-strand twist, twirling the end a bit to help the twists hold.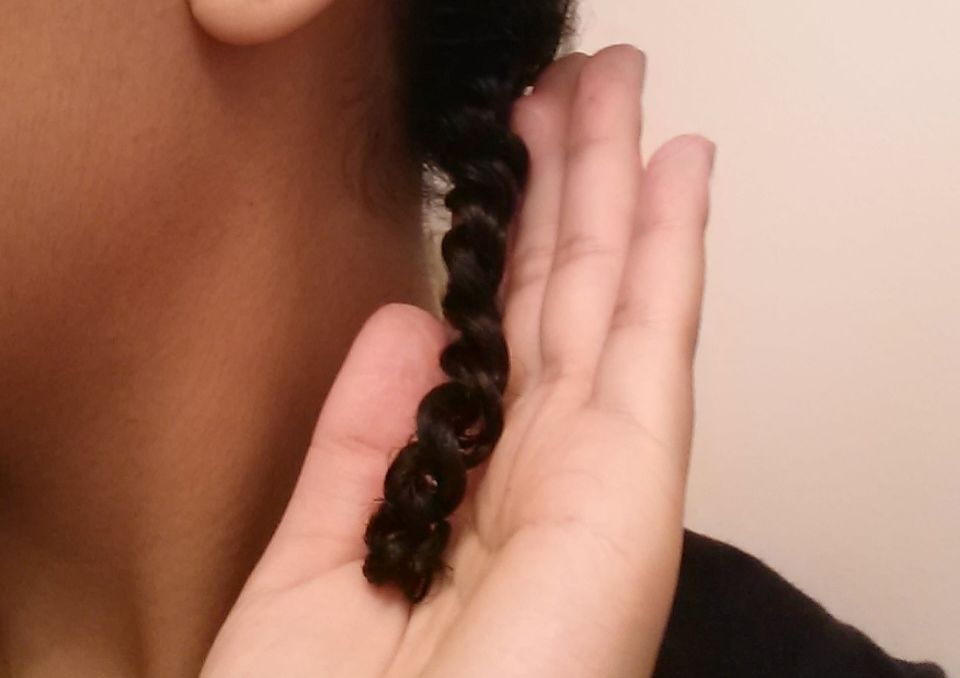 In all, I had a little under 20 twists. My hair isn't super thick -- so you might have to do more to keep them as skinny if you have very thick hair. I sat under my dryer for a half hour before going to bed to be sure my hair would be dry by the morning. You can also air dry if you don't use heat.
The next morning, I untwisted, seperated and stretched each twist one by one. Before unraveling, I spritzed my hands with a light weight oil based moisturizer (any light weight oil is fine -- just rub a small amount into your hands to avoid frizz). I first untwisted, then separated the strand once.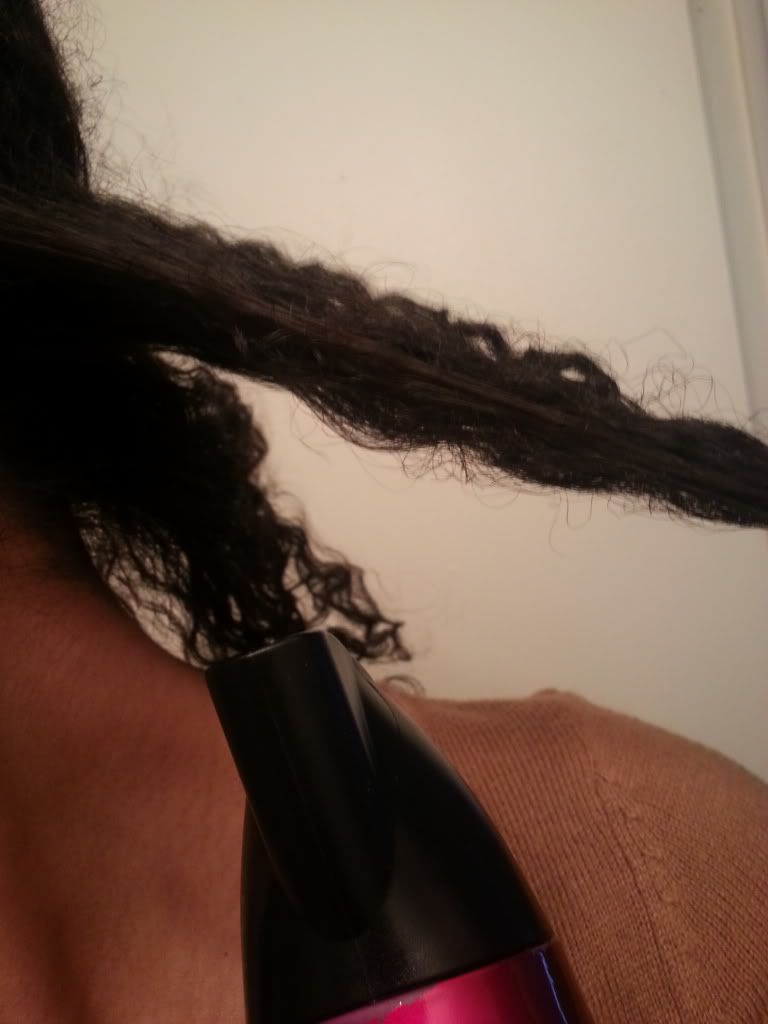 To fluff and stretch out the curls, I pulled the strand taut and blow dried the strands with my concentrator nozzle focusing on the roots and then working the dryer down the whole strand, being careful not to completely straighten the hair, but just to stretch it. If you don't want to use heat, then just separate the strands more than once.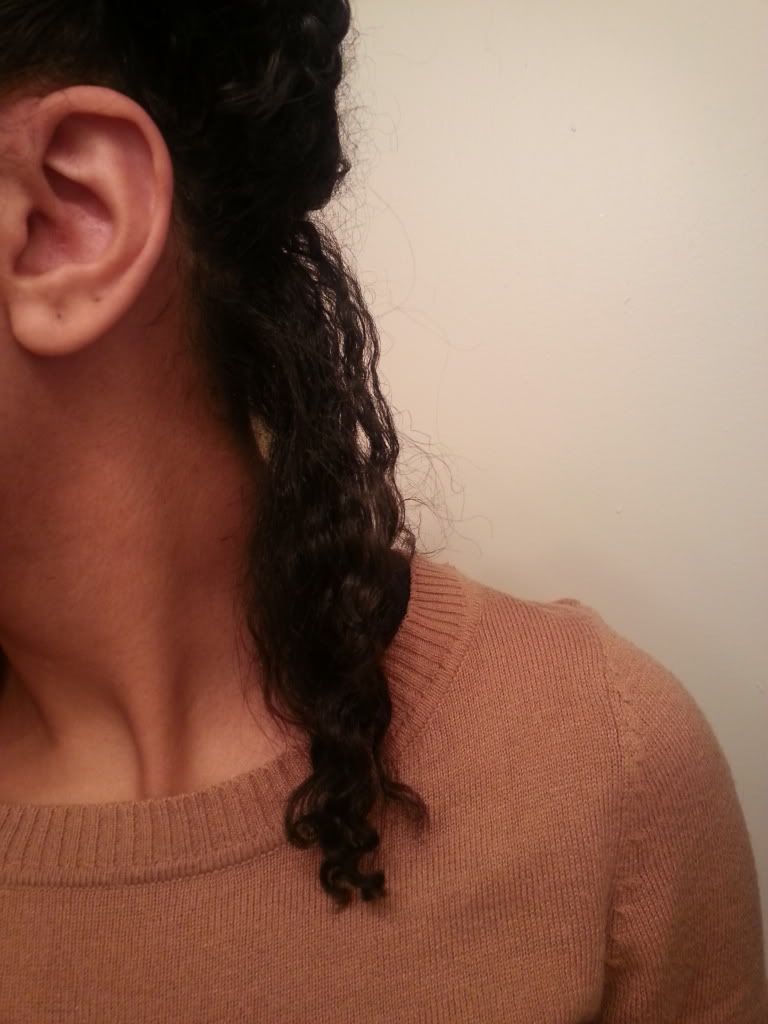 This is what the hair will look like after untwisting, separating, and tension blow drying for a few seconds.
This is what my hair looked like after repeating the same process for every twist. My hair was very fluffy and soft and there was very little frizz. The results are similar to my wash and gos using the tension blow drying method, but when I twist my hair it makes my curls more uniform and defined throughout my whole head. The style also lasts longer.
This is how my hair looked on day 3. Definitely frizzier...but the style still held pretty well! I actually got a fourth day out of it, too -- I just clipped back a few frizzier strands at the front to make a half ponytail look.
To preserve the curls at night, I gathered and twisted all of my hair into one ponytail -- without using a ponytail -- and covered it with a wig cap to keep all the hair secured. Sometimes silk scarves just slide right off my head -- but I find that my wig cap actually stays on my head the whole night and helps hold the hair down to reduce frizzing at the roots.